Investors TRIM Appetite for Restaurant Stocks
Earnings season is causing several dramatic moves in the market today. After announcing financial results for the second-quarter late Thursday, shares of Chipotle Mexican Grill (NYSE:CMG) were burnt to a crisp as investors fled restaurant stocks.
For the most recent quarter, the fast-casual Mexican restaurant chain announced that net income jumped 61.2 percent to $81.7 million ($2.56 per share), compared to $50.7 million ($1.59 per share) a year earlier. The company has now seen net income increase for three consecutive quarters. Meanwhile, sales rose 20.9 percent to $690.9 million, making it the fifth straight quarter of double-digit year-over-year revenue growth.
"We are pleased that our continued focus on improving the quality and taste of our food, along with strengthening our people culture, has lead to a better dining experience for our customers, and ultimately better financial results for our shareholders," said Steve Ells, Chipotle Founder, Chairman and Co-CEO.
Don't Miss: Are Share Buybacks a Good Idea?
Although Chipotle beat the mean analyst estimate of $2.30 per share, revenue fell short of the expected $707.1 million. Sales at restaurants open at least one year increased 8 percent, below expectations of 10.1 percent. John Hartung, chief financial officer, explained on the conference call with analysts, "We were humming along nicely in the first-quarter. We were humming along nicely in April and then we saw a slowdown. It's not a significant slowdown, but it is a slowdown."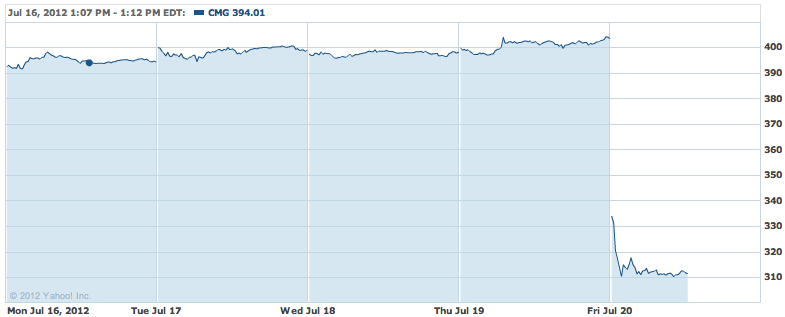 As the chart above shows, when high-flying momentum stocks such as Chipotle disappoint investors, the outcome can be brutal. Shares plunged more than 20 percent and hit as low as $307.27 in Friday trading. Before the worse-than-expected sales announcement, shares closed at $403.86. Other casual dining names such as Panera Bread (NASDAQ:PNRA) and Buffalo Wild Wings (NASDAQ:BWLD) declined 5.5 percent and 4.2 percent, respectively. Quick-service outlets McDonald's (NYSE:MCD) and Yum! Brands (NYSE:YUM) also experienced a pullback as both fell more than 1 percent.
Due to the recent developments in Chipotle, some analysts are dialing down their optimism on the stock. Goldman Sachs (NYSE:GS) removed Chipotle from its Conviction Buy List and slashed its price target to $365 per share from $475. "The quick onset and the magnitude of the decelerations have taken us by surprise, and therefore we have reevaluated our bullish stance," explained analyst Michael Kelter, according to WSJ. UBS (NYSE:UBS) also lowered its price target on shares to $355 from $443, while Deutsche Bank (NYSE:DB) downgraded the stock to a Hold from Buy.
Before jumping into Chipotle at its newly reduced price, investors should keep in mind that momentum stocks rarely come surging back after breaking down. Furthermore, there are some fundamental hiccups that are likely to emerge in the coming quarters due to extreme heat and rising input expenses. Chipotle explained on the earnings call, "While costs have been relatively stable overall so far this year, the recent extreme weather will likely put pressure on our food costs later in the year and into 2013."
Investor Insight: SILVER: The Metal of Sunken Treasure and Champions