Investors May Disagree, But Analysts Worry About BofA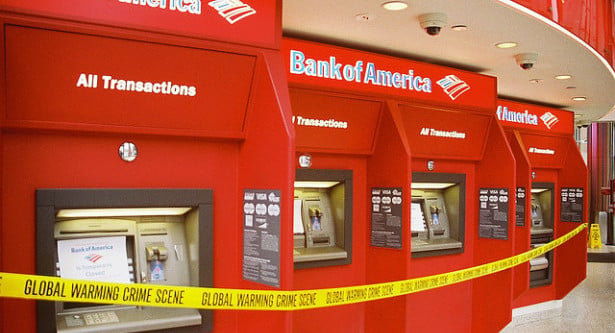 Shareholders were happy to hear Thursday that stronger trading revenues propelled Bank of America (NYSE:BAC) to a better-than-expected 63 percent increase in second-quarter net income. But, closer inspection reveals that there may be a problem hidden below the surface: the bank's balance sheet was hurt by rising bond yields in the last three-month period.
Bank of America generated a profit of $3.57 billion in the past quarter, but its net worth fell by $6.26 billion because of investment losses. In comparison, both JPMorgan Chase (NYSE:JPM) and Citigroup (NYSE:C) increased their net worth, as measured by book value, which suggests that the second-largest bank in the United States is much more vulnerable to interest rate increases than its rivals.
As Reuters reported, the unrealized losses "bode ill" for shareholders looking for Bank of America to increase share buybacks and dividends. The rising bond yields, and later increasing interest rates, will prompt additional losses in the bank's portfolio, which will likely keep its net worth from growing, and therefore, will make it difficult for the bank's management to convince regulators that the bank can return more capital to its shareholders.
From the details of the company's financials, it seems Bank of America calculated that the yields of the mortgage bonds in its investment portfolio would stay relatively stable and relatively low in the months from April through June, analysts told Reuters. But the bank lost the bet. Bonds in the United States rose after Federal Reserve Chairman Ben Bernanke said the central bank would begin scaling back its $85-billion monthly asset purchases this year and end the stimulus midway through 2014 if the economy meets its growth targets.
From its investments in bonds, Bank of America recorded $5.73 billion of paper losses in the second quarter, and it still held approximately $170 billion in the securities as of June 30. The $5.73 billion loss was from a portfolio, known as the "available-for-sales" book, which is recorded on the bank's balance sheet, but not included in its earnings.
Analysts also cautioned that Bank of America may have made similar large bets on rates in the derivatives market, which could lead to further losses if yields increase, they told Reuters. "Every bank has their risk where they're willing to go out on a limb, and rate risk is what Bank of America is willing to go out on a limb for," equity research and trading firm Portales Partners' Charles Peabody told the publication. According to his firm's estimates, it has a higher percentage of residential mortgage-backed securities on its books than either Citigroup or JPMorgan, and higher exposure to those type of securities means the bank will be more hurt by rising rates.
"They shine at taking rate risk over time, but it can come back to haunt them, too," Peabody said. He has an "underperform" rating on shares of Bank of America, and last month he predicted that the bank would generate billions of dollars of losses in its available-for-sale portfolio. However, it should be noted the Bank of America is building capital, at least by certain standards; regulators use several different gauges of capital and leverage when assessing a bank's strength. In terms of Basel III regulations, it is ahead of JPMorgan.
Seemingly oblivious of the bank's balance book problems, investors bid shares up on Thursday, and the stock closed at $14.31, its highest level since March 2011. With that stock market leap, investors indicated they were satisfied with Bank of America's lowered operating expenses and higher revenue. But not all investors were satisfied. "Rising rates will not be a benefit for Bank of America or any big bank in the short-term. That's why we're staying away," Malcolm Polley, chief investment officer at Stewart Capital Advisors, told the publication.
If bond yields fail to stabilize, continued growth in earnings could offset the unrealized losses. As Chief Financial Officer Bruce Thompson said, according to Reuters, it would take three years for net interest income to offset the drop in the bank's securities portfolios that have resulted from the rising yields.
"You're going to have earnings improving, which is what the markets are going to be looking at. It just takes a little time to get there," Guggenheim Securities analyst Marty Mosby told Reuters. However, if the worst case scenario occurs, and economic growth slows while bond yield rise, the bank's income would drop and it could suffer further losses decreasing Bank of America's capital reserves.
Don't Miss: Is This a Student Loan Deal That Can Avoid Getting Torpedoed?
Follow Meghan on Twitter @MFoley_WSCS