Investors Should Read the FINE PRINT on Homebuilders
Despite an overall slow start to the trading day, homebuilder stocks popped early as the latest housing data renewed hopes for the long-awaited housing rebound. However, a closer look at the housing market shows that investors should still be cautious and a typical rebound still eludes the housing market.
On Wednesday, the Commerce Department announced that housing starts in June increased to a seasonally adjusted annual rate of 760,000 units, representing a 6.9 percent increase from May's revised 711,000-unit pace. It was the fastest rate since October 2008 and well above expectations of 745,000 units. Compared with a year earlier, groundbreaking on new homes in the United States climbed 23.6 percent higher. "Demand has bottomed out and we expect continued improvement. We're in a recovery, a very slow one," said Yelena Shulyatyeva, an economist at BNP Paribas, according to Bloomberg.
Don't Miss: Vivus BREAKTHROUGH Opens Up the Obesity Market
As the chart below shows, it has been a good year for investors in homebuilder names. Shares of DR Horton (NYSE:DHI), KB Home (NYSE:KBH) and Toll Brothers (NYSE:TOL) have all gained nearly 50 percent this year. Lennar Corp. (NYSE:LEN), the third-largest U.S. homebuilder by revenue, has jumped 57 percent year-to-date. Meanwhile, the pack leader of the year is PulteGroup (NYSE:PHM), surging more than 70 percent. On Tuesday, the National Association of HomeBuilders said that confidence among homebuilders hit its highest level since March 2007.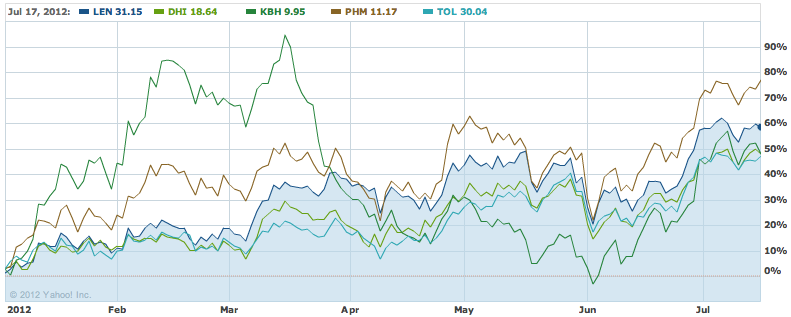 Although housing starts came in better-than-expected, the fine-print should not go unnoticed. With the housing bubble still in recent memory, high unemployment and tight lending standards, more Americans are turning to the rental market. Construction of single-family homes in June increased only 4.7 percent, while multi-family homes with at least two units jumped by 12.8 percent. Even more concerning, is the coming supply increase hitting the already fragile market.
Zero Hedge explains via Bloomberg, "The shadow inventory of homes-those in foreclosure plus those 90 days late on mortgage payments- is on the rise again, a further indication that the supply side has not yet healed. According to RealtyTrac, foreclosure starts jumped 6 percent on a year ago basis in the second-quarter, the first year-over-year increase since 2009. There are roughly 4.16 million homes that could begin to flow to market. Once one takes the number of homeowners 30 to 90 days late on their mortgage payments and includes the likely default of those that have negative equity on their homes, there is a strong possibility more than 6.5 million additional foreclosures will enter the pipeline." In addition to the chances of homebuilders over supplying the rental market, another wave of foreclosures could further dampen the single-family market, creating a double-dose of too much supply.
Investor Insight: Why are These Companies Betting BIG on AMERICA?