Investors Turn Cautious on Dow Healthcare Stocks into Week's End
Pfizer (NYSE:PFE): Current price $27.25
The drug giant intends to issue benchmark bonds in its first dollar-denominated debt sale in over four years. As soon as Tuesday, Pfizer will offer three-, five-, 10- and 30-year securities, according to a knowledgeable source. The notes will be used to repay the firm's 1.85 billion euros of 3.625 percent bonds due June 3, indicated a regulatory filing. Proceeds may be used to repay a portion of Pfizer's $750 million of 4.5 percent debentures and $1.75 billion of 5.5 percent securities, both maturing in February 2014, according to the filing.
The Committee for Medicinal Products for Human Use has adopted a positive opinion, recommending a variation to the terms of the marketing authorization for Pfizer's medicinal product Prevenar 13. The Committee adopted a change to an indication as follows: Active immunization for the prevention of invasive disease caused by Streptococcus pneumonia in adults 18 years of age and the elderly.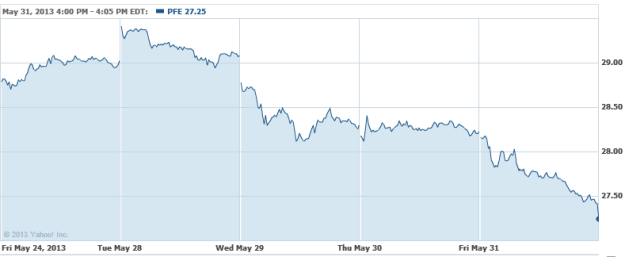 Johnson & Johnson (NYSE:JNJ): Current price $84.27
Johnson & Johnson recently supplied an update on its pharmaceutical unit while it looks to reinforce its pharma product portfolio, and intends to file for the approval of over 10 new products and in excess of 25 line extensions during the next 4 years. IMS Health reports that the global pharma market, which was worth roughly $963 billion in 2012, is on track to grow at about 4.5 percent yearly to around $1.2 trillion by 2017. Further, IMS Health said that Johnson & Johnson's pharma business was the most rapidly growing in the United States, Europe, and Japan last year, when it spent approximately $7.7 billion on research and development. The company's primary focus areas include: Neuroscience, Cardiovascular and Metabolism, Immunology, Oncology, and Infectious Diseases/Vaccines.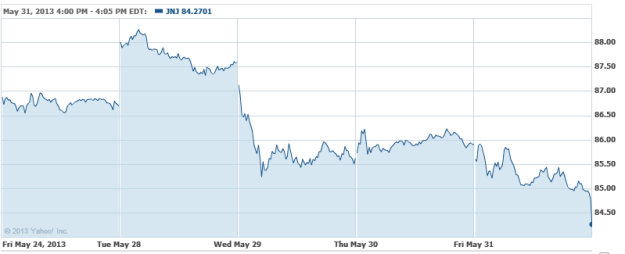 UnitedHealth Group (NYSE:UNH): Current price $62.69
The company will offer coverage in only a dozen of Obamacare's new insurance exchanges, marking the most recent indication that big insurers envision little gain from rapidly plunging into the new markets. Chief Executive Stephen Hemsley told investors Thursday at the Sanford C. Bernstein & Co. conference in New York that the Unites States' number one health insurer is striking a conservative approach to the online markets ready to open in states on October 1st. UnitedHealth's plans sum up its fear that the first wave of newly-insured customers under the law may be the most expensive, according to Hemsley, who went on to say that UnitedHealth will "watch and see" how the exchanges come about, and that he expects the first enrollees will have "a pent-up appetite" for medical care, remarking that "we are approaching them with some degree of caution because of that."