Investors Unsure About JCPenney's Breakup With Martha Stewart and 2 Other Hot Stocks to Watch
J.C. Penney & Co. (NYSE:JCP): Current price $14.48
One day following the iconic retailer's breakup with Martha Stewart, investors do not seem decided as to whether the move was the right thing to do with the stock moving back and forth from red to green in Friday trading. Penney shares have moved up by about 1 percent, while Macy's Inc. are down 0.67. A report in The New York Post on Thursday said that Penney's has concluded its relationship with the Martha Stewart brand, which comes while a decision is due in a legal case between all three companies.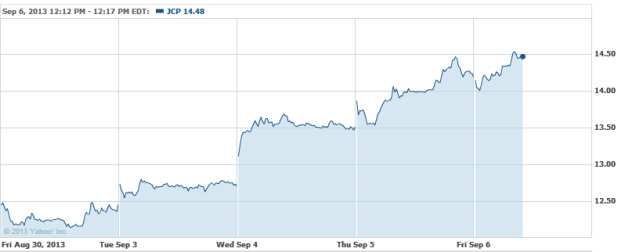 General Electric Co. (NYSE:GE): Current price $23.19
GE's lucrative interest in oil and gas assets and a cash stockpile that is nearing the highest level in a minimum of a decade has caused Dresser-Rand Group Inc. and Dril-Quip Inc. to be seen as potential takeover targets, as the giant company might be set to go on a shopping spree. Global Financial Private Capital LLC believes that Dresser-Rand, which builds compressors and turbines, and the subsea drilling equipment maker Dril-Quip, could be attractive targets for General Electric.

Micron Technology, Inc. (NASDAQ:MU): Current price $15.19
On Friday, the worldwide brand of flash memory products, Lexar, announced the Lexar JumpDrive M10 Secure USB 3.0 flash drive for safe and high-speed file transfer. The new drive features EncryptStick Lite software, which is an advanced security solution with 256-bit AES encryption for comprehensive data protection, the capacity to create a single password-protected vault which automatically encrypts data, and a File Shredder that permanently deletes files from the device so they can never be restored. Lexar is a brand of Micron Consumer Products Group, Inc., which is a subsidiary of Micron Technology, Inc., one of the top memory manufacturers on the planet.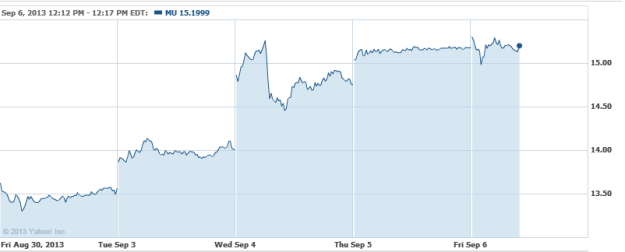 Don't Miss: J.C. Penney Decides Martha Stewart Deal Isn't Worth a Lawsuit.