Is a Credit Downgrade in America's Future?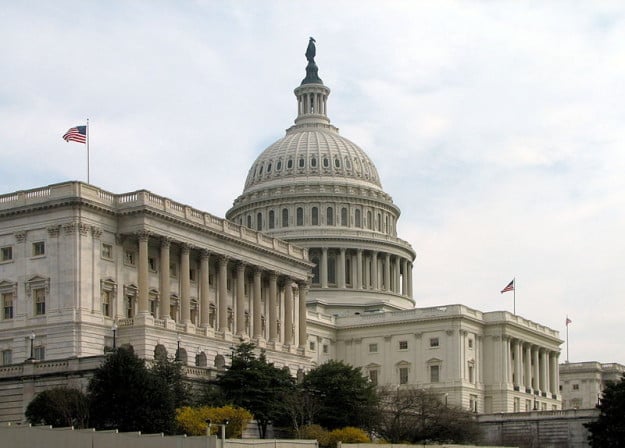 Fitch Ratings — the global credit watchdog — says that the United State's AAA credit rating may do poorly if the country risks another default in the coming months. According to Reuters, Fitch claims that the U.S.'s budget deficit and debt must be further reduced to protect against negative ratings. This is despite the Department of Treasury's announcement in October that the deficit was at its lowest since 2008 with the federal deficit taking up only 4.1 percent of the nations GDP — down from 2012′s 6.8 percent.
Fitch has the U.S. on the "Rating Watch Negative," placed there on October 15. What that means is that a credit downgrade is more likely to happen than it is not to happen. Fitch will decide whether or not to do so by March 31 of the coming year. Fitch seems to be most concerned with the effects of another halt in Congress over the budget. "Nothing is pre-determined, but that wouldn't be a good signal if we have that kind of outcome again," said Ed Parker, the lead analyst for the U.S. with Fitch, and head of EMEA sovereign ratings.
Unfortunately, a second shutdown doesn't look that unlikely, with many in Washington bemoaning that the budget fight has just been put off, not solved. Parker did give the U.S. credit for lowering the deficit as much as it has, but says it's not enough. "Over the medium term there are rising costs from an aging population, so further measures will be needed to get the deficit down and the debt ratio on a firm downward path," said Parker. According to CNN Money, most economists don't seem to be feeling the heat from Fitch's portent. "Unlike Southern Europe, the ability of the U.S. to service its debt is not an issue at this point in time. This is a political, procedural crisis, not a crisis based on economic fundamentals," said Sean Snaith, a profession at the University of Central Florida.
While economists understand that a downgrade is a real possibility, most seem to think that even with a downgrade things will be fine. CNN Money reports that 75 percent of economists aren't concerned about market reaction to a downgrade. "The stock market might drop, but it would quickly rebound once a deal is done. Treasury yields have already gone up a lot from the 'taper tantrum,' so the ten year won't move much, if at all," said James Smith of Parsec Financial Management.
Don't Miss: 4 Ongoing Crises Americans Must Live With.