Is a Free-Trade Agreement With Europe Finally Within Reach?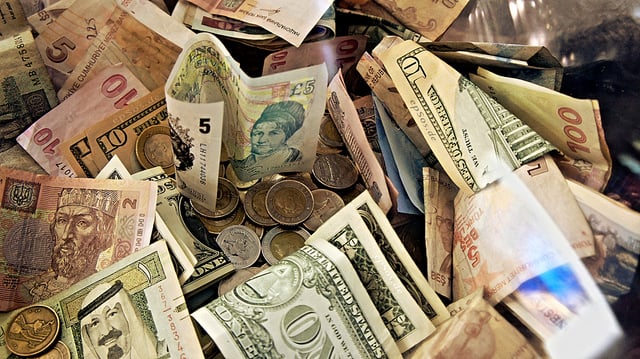 In many ways, a free-trade agreement between the European Union and the United States is the Holy Grail for the G8. Comprehensive — or at least competent — trade regulations have been sought by market participants and political leaders for more than two decades, but reform has consistently been crushed by seemingly irreconcilable differences in how the EU and U.S. think about genetically-modified foods and intellectual property.
Nothing stands in the way of good economics like bad politics. While there are free-trade champions on both sides of the Atlantic, many of the old sticking points that have prevented a deal in the past still linger, and it's unclear how they will be resolved. An agreement would require the support of all 27 EU member states, meaning disapproval from any one could drown talks in banality — something previous efforts have suffered.
Near the top of the list of concerns are compatible regulatory structures surrounding agricultural and food products. Europe has a ban on some U.S. meat products because of differing regulations surrounding the production and safety of food. The EU has also blocked imports of genetically modified corn and soybeans. Some member nations such as France are keen on keeping these policies in place, but American agricultural groups are unlikely to support a free-trade agreement that does not address — or remove — them.
But political leaders seem increasingly keen on pushing forward with a deal despite the complaints of some individual groups. The U.S. Chamber of Commerce estimates that removing some tariffs that currently exist between the EU and U.S. could boost two-way trade by as much as $120 billion in five years. A free-trade agreement could add as much as 2 percent to combined GDP, and pave the way for competent trade agreements with China, India, and the rest of the world.
The United Kingdom, which is hosting this year's G8 summit, produced this infographic summarizing why trade talks are on the agenda: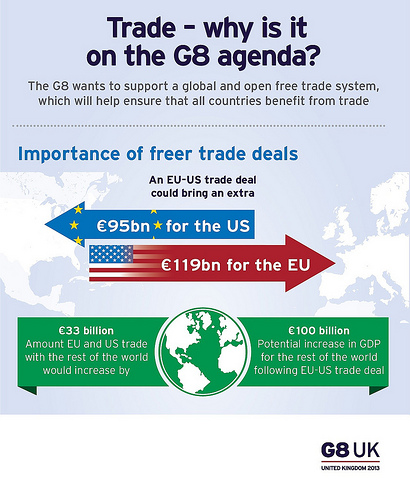 Reports from the G8 summit indicate that policymakers will pursue talks on a transatlantic free-trade agreement beginning in July. This is hardly the first time that motions have been made, but this time there seems to be at least a modicum of resolve from the world's economic leaders. President Barack Obama has suggested that a deal would serve to reinforce the position that the EU and U.S. enjoy as the "backbone of the world economy."
For some context on the backbone status of the region, the Ifo Institute, a German economic think tank, reports that a transatlantic free-trade agreement would cover almost 50 percent of global economic output, but account for just under 12 percent of the global population.
Over the course of 13 hours at the summit, EU leaders hammered out a mandate to begin talks. The U.S. is expected to follow with its own mandate shortly, and Karl De Gucht, the European commissioner for free trade, said that he was "delighted" at the progress.
Don't Miss: How Much Did This Tax Credit Boost Corporate Earnings?