Is Boeing's 777X On the Verge of Leaving Washington State?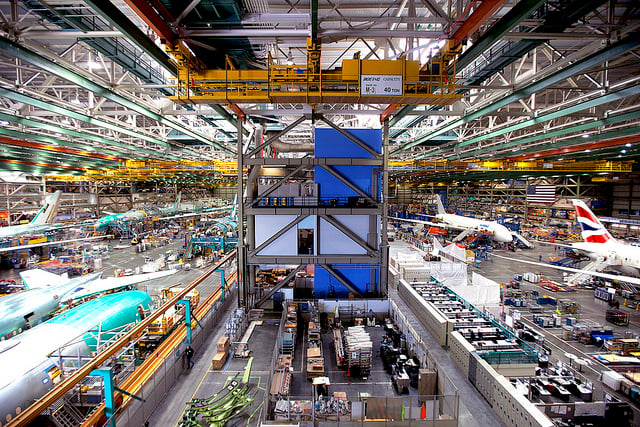 The standoff between Boeing Co. (NYSE:BA) and union machinists in Washington state regarding the construction of the planemaker's new 777X jets appears to have hit a turning point. On Saturday, a company official stated that the Boeing is now soliciting bids from over a dozen locations looking to secure a contract to build its 777X airplanes, the AP reports.
According to Boeing spokesman Doug Alder, proposal requests began to go out on Friday, with the company asking for responses within the next several weeks. Boeing will look to make a decision on the matter in early 2014.
While Alder did not specify which locations have indicated interest, the AP notes that officials in Alabama, California, Missouri, South Carolina, Texas, and Utah have previously voiced interest in attempting to lure Boeing to their state. On the question of what qualifications Boeing is looking for from a location, Alder stated, "We'll look at what might best fit our needs."
Boeing had originally planned to build the 777X in Washington state, but had sought concessions from union machinists that were resoundingly rejected.
"We preserved something sacred by rejecting the Boeing proposal. We've held on to our pensions and that's big," Tom Wroblewski, a representative of the union, said in a statement earlier this month. "At a time when financial planners are talking about a 'retirement crisis' in America, we have preserved a tool that will help our members retire with more comfort and dignity."
The chance of a compromise between Boeing and union workers, while still a possibility, seems more and more unlikely in recent days, with Alder saying that Boeing had no plans to re-engage with the machinists union. However, the AP reports that Washington state officials say that they still plan to compete for work with a recently approved tax break valued at over $9 billion along with legislation to improve aerospace training programs and the permitting process.
Boeing's 777X has been offered since May, but the company is still finalizing plans for the plane. At last week's Dubai Airshow, Boeing received 225 orders of the model from three airlines in a show of considerable interest for the 777X. More fuel efficient than the 777, the 777X is expected to carry up to 400 passengers, with the first plane set to be delivered by the end of the decade.
If the 777X proves to be anywhere near as popular as the Boeing 777, the airplane could become a huge moneymaker for the planemaker. The 777, which had its first flight in 1994, has been one of Boeing's biggest sellers and has sold at a higher rate than any of Boeing's other current large planes.
Don't Miss: 5 Best Value Travel Destinations of 2014.