Is Condensation to Blame for Boeing 787 Fire?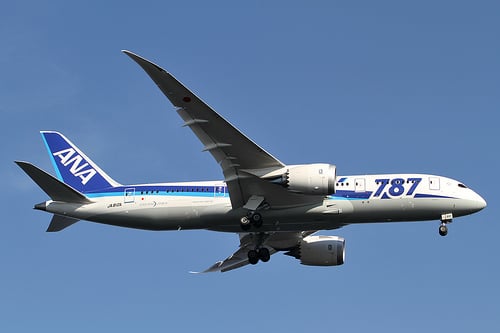 While the mystery surrounding what caused an empty Boeing (NYSE:BA) 787 Dreamliner to catch fire at London's Heathrow Airport has been solved, new information continues to trickle out about the specifics of what happened and what's being done to fix it.
Investigators now believe that a combination of condensation in the plane and a pinched wire in an emergency beacon is to blame for the fire last week aboard a 787 owned by Ethiopian Airlines. On Friday, the U.S. Federal Aviation Administration announced inspections of beacons made by Honeywell International Inc. (NYSE:HON) aboard 787′s, but stopped short of calling for airlines to universally remove the emergency beacons or disable them.
The FAA explained that inspections would make sure that wire were properly routed, while investigating for pinched wires in the casing of emergency locator transmitters. Additionally, inspectors are told to look for signs of any unusual moisture or heat.
While condensation is normal on all airlines, 787′s actually have a higher level of humidity — 15 percent compared to the average 4-5 percent on most airlines — for the purpose of passenger comfort. Mike Sinnett, Boeing's chief 787 engineer, told Reuters that the humidity controllers on 787′s are designed to dry out the upper fuselage of the aircraft and prevent moisture from building up.
However, a source told Reuters that moisture was the focus of the investigations as of now. "Condensation, humidity and installation – that's the focal point of the investigation," the source explained.
While the emergency locator transmitters are subject to stringent tests, the source said, the effect of long-term condensation in unclear. The ELTs must be able to pass a test in which it is submerged underwater for an hour, but the effect of long-term exposure to condensation build-up might cause a different reaction to the aluminum encased battery.
Investigators are also interested in determining whether an elongated grounding of the Ethiopian Airlines 787 might have been at least partly to blame for the fire. The 787 sat outside in Africa for months and some are curious whether this somehow had an impact on the wiring. Another source, who is reportedly close with Boeing, told Reuters that the 787 might need better isolation of electrical components.
Regardless, as the investigation continues the mystery will likely continue to grow more complex — but the FAA is determined to make sure customers are not scared of flying.
"Safety is our top priority. The Federal Aviation Administration has been an active participant in the investigation into the incident involving a Boeing 787 while parked on the ground in London. We are currently reviewing the AAIB's report and recommendations to determine the appropriate action. We will work closely with the AAIB, as well as Boeing and Honeywell, as the investigation into the cause [of the fire] continues," the FAA said.