Is Congress Bad for the Stock Market?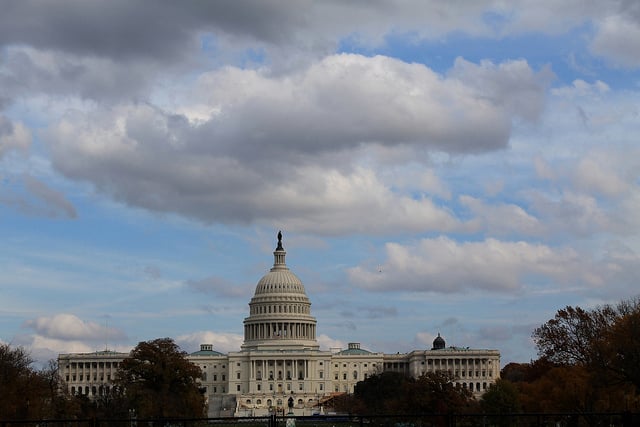 The theatrics in Washington, D.C. have not been particularly kind to the financial markets in recent years as politicians move from one self-inflicted crisis to another. Many investors have learned to ignore the short-term noise, but Mr. Market clearly prefers Congress to stay out of session and the headlines.
At the beginning of October, the government went into partial shutdown mode, affecting everything from national parks to numerous agencies and public services. Since then, headlines have been the catalyst for some wild trading. Within the first two weeks of October, the S&P 500 fell nearly 5 percent below its all time high made in September, and reached its most oversold level since June. Meanwhile, the Dow Jones Industrial Average broke below its 200-day moving average for the first time this year — about 6 percent below its September all time high.
Even with the political drama, stocks are still in positive territory for the year and near all time highs. However, the negative effects of Congress over long-term returns are well-documented. In a report from Professor Michael Ferguson from the University of Cincinnati and Dr. Douglas Witte from the University of Missouri, Congress activity is found to have a strong relationship with lower stocks returns and higher volatility. In contrast, returns are higher and volatility is lower when Congress is not in session.
The so-called "Congressional Effect" accumulates impressively over time. Between 1897 and 2006, more than 90 percent of the capital gains in the Dow Jones Industrial Average came on days when Congress was out of session. Going back to 1957, the S&P 500 has logged more than two-thirds of its rise when Congress was not in session.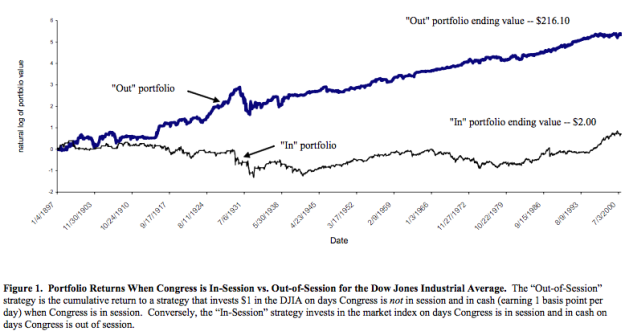 Ferguson and Witte also explained, "The most compelling evidence that the Congressional Effect is a real economic phenomenon is the finding that the Effect for both mean returns and volatility varies systematically with the public's attitude toward Congress. In particular, returns are highest and volatility lowest when a relatively unpopular Congress is out of session. Conversely, returns are lowest and volatility highest when a relatively popular Congress is out of session."
Politicians are usually unpopular with the public, but the approval of the current group of misfits is at record lows. According to Gallup, economic confidence in the United States recently suffered its worst week since the collapse of Lehman Brothers during the credit meltdown in 2008. Thirty-three percent of Americans also believe the dysfunctional government is the economy's top problem, the highest reading since 1939. In fact, only 18 percent of Americas are satisfied with the way the nation is being governed, down 14 percentage points from 32 percent in September.
Don't Miss: Top 10 States Hurt by the Government Shutdown
Follow Eric on Twitter @Mr_Eric_WSCS