Is Consumer Confidence Hitting Retailers?
The Great Recession technically ended about four years ago as the economy rebounded and started to expand. Since the trough of the credit crisis, stocks have recaptured all-time highs against the backdrop of a very accommodating Federal Reserve. However, confidence is weakening and retailers are still fighting for consumers.
Americans' confidence in the economy last month hit its lowest level since April. Gallup's Economic Confidence Index fell to -12 in July compared to -8 in June and -7 in May. The decline in confidence occurred across all income groups, but middle and lower income Americans suffered more than upper-income Americans' confidence.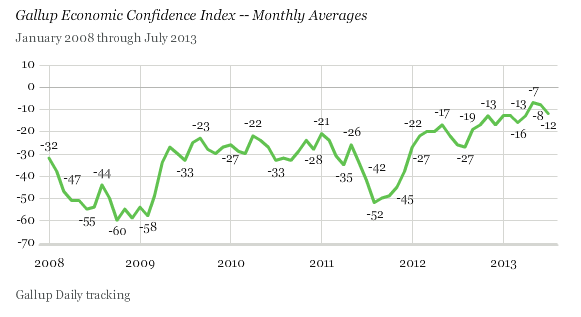 On the positive, the July score is still one of the best readings since the confidence index bottomed in 2008 at -60. As the chart above shows, the index has been trending higher since the beginning of 2012.
Gallup's Economic Confidence Index is based on two components, which are current economic conditions and the perception of whether the economy is improving. Both declined in July, but the majority of the drop came from a worsening economic outlook.
When confidence declines, consumers often become more price-conscious and reduce their spending. Earlier this week, Gallup reported that consumer spending in July edged slightly lower from the previous month and has been relatively flat since March.
The recent dip in confidence and spending has been highlighted in the retail industry. Shares of Ralph Lauren (NYSE:RL) and American Eagle Outfitters (NYSE:AEO) recently suffered large declines amid a weak outlook. Ralph Lauren shares fell more than 8 percent on Wednesday after saying it expects a low-single-digit percentage rise in revenue for the current quarter. Meanwhile, American Eagle Outfitters slashed its second-quarter EPS outlook from 21 cents to only 10 cents — causing shares to plunge 12 percent on Tuesday and another 3 percent Wednesday.
Robert Hanson, chief executive officer of American Eagle Outfitters, explained, "We are not at all happy with our second quarter results, which were impacted primarily by a disappointing performance of our AEO women's assortment and weak traffic. Results were exacerbated by a highly promotional retail environment, which intensified over the course of July. Within this context, we increased the depth and breadth of markdowns." He also added, "The domestic retail environment remains challenging."
Don't Miss: Are Restaurants Still Recovering from the Great Recession?
Follow Eric on Twitter @Mr_Eric_WSCS