Is Consumer Spending Starting off the Second Quarter Strong?
The retail segment of the United States economy has been on somewhat of a volatile trajectory so far this year.
Early in the year, the consumer spending growth thesis put forward by many analysts, pundits, and even several retailers themselves postulated that end of the payroll tax holiday would cause the majority of Americans to tighten their financial belts and cut way back on discretionary spending. Retail sales made scant progress as the labor market recovery sputtered in March, giving credence to that theory. Combined with little growth in wages, Americans found it difficult to spend, which concerned economists as consumer spending accounts for approximately 70 percent of the economy.
But some fiscal headwinds appear to have eased last month as retail sales in the United States unexpectedly rose in April. Still, the increase was slight. The Commerce Department announced Monday that retail sales edged up last month 0.1 percent after a revised 0.5 percent decline the previous month. Economists polled by Reuters had expected retail sales, which account for approximately 30 percent of consumer spending, to drop 0.3 percent in April.
Core sales — a segment of retail that excludes automobiles, gasoline, and building materials, and corresponds mostly closely to the consumer spending component of gross domestic product, rose 0.5 percent following a 0.1-percent increase in March.
"Consumer spending looks to have started the second quarter off on a solid note," BMO Capital Markets senior economist Jennifer Lee told Reuters.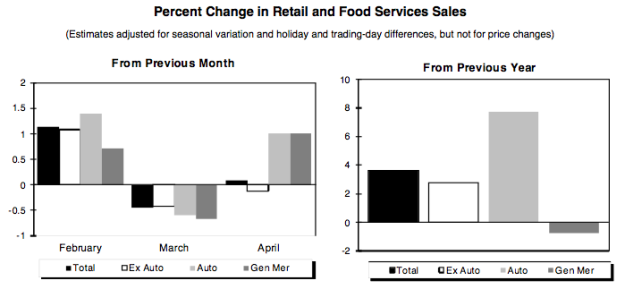 You can follow Meghan on Twitter (@MFoley_WSCS) for the latest industry news.
Don't Miss: The Fed: Don't Worry, We'll Keep An Eye On Things.