Is CytRx Corporation the Next Pharmacyclics?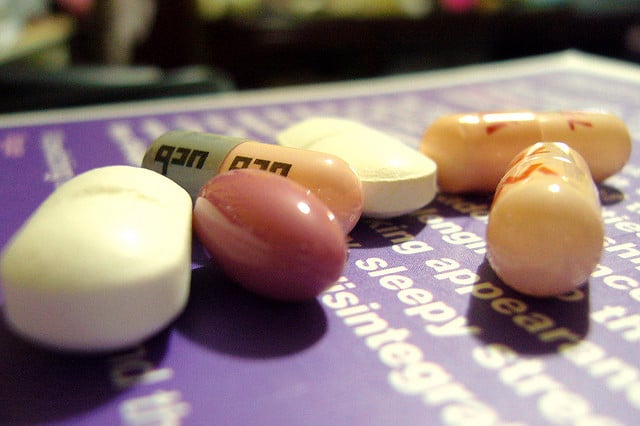 The biggest story this week in biotechnology has been the explosion seen in shares of CytRx Corporation (NASDAQ:CYTR). In fact, the recent move catapults CytRx to one of the top performing biotechnology stocks of 2013, and what's really interesting is that based on the recent news, CytRx may be on the verge of altering the cancer landscape — much like Pharmacyclics (NASDAQ:PCYC) has done over the past couple of years.
CytRx Corporation is a development-stage biotechnology company developing a potential replacement for doxorubicin, the current standard of care in cancer treatment. The company has developed an improved version of doxorubicin, called aldoxorubicin, which it hopes can be used to treat a variety of cancers including first-line soft tissue sarcoma, second-line soft tissue sarcoma, glioblastoma multiforme, and Kaposi's sarcoma.
Aldoxorubicin Potential
Earlier this week, CytRx announced results from its on-going Phase 2b clinical trial that was evaluating the efficacy and safety of aldoxorubicin in patients with first-line metastatic, locally advanced, or unresectable soft tissue sarcoma. Data from the trial indicated that aldoxorubicin demonstrated between 80 and 100 percent superiority over doxorubicin in progression-free survival as a first-line therapy in advanced soft tissue sarcoma. The median progression-free survival, 6-month progression-free survival and overall response rates all significantly favor aldoxorubicin treatment over doxorubicin. Additionally, there were no serious safety issues seen in the patients.
The Next Pharmacyclics?
In the opening paragraph, I suggested that CytRx may be on pace to become the next Pharmacyclics.  There are several reasons why I think this may be the case:
Platform applicable to multiple diseases
"Smart Money" purchasing shares
Sudden share price explosion
World Class Platform
The biggest reason why I am comparing CytRx to Pharmacyclics is because of the ability to apply its treatment to multiple diseases. Pharmacyclics' rise came mainly because of IMBRUVICA, a BtK inhibitor. BTK is a signaling protein that is critically important for the activity of B-cells (immune cells that produce antibodies to help fight infection). Targeted inhibition of BTK is a novel approach for treating many different human diseases associated with the inappropriate activation of B-cells, including B-cell malignancies (cancers such as certain forms of lymphoma, leukemia, and multiple myeloma) and potentially autoimmune and inflammatory disorders (such as rheumatoid arthritis). In fact, Pharmacyclics is currently evaluating IMBRUVICA for treatment of the following diseases:
Chronic Lymphocytic Leukemia
Mantle Cell Lymphoma
Diffuse Large B-Cell Lymphoma
Multiple Myeloma
Follicular Lymphoma
Waldenstrom's Macroglobulinemia
With this week's press release, it appears that CytRx may be developing a world-class platform as well. It is currently evaluating aldoxorubicin in 4 major diseases with the potential to pursue further treatments down the road. Based on the outstanding data shown in the Phase 2b trial, I wouldn't be surprised at all to see the company start to consider trials in additional types of cancer.
Smart Money Purchasing Shares
Before Pharmacyclics became the company it is today, there was significant insider buying, known as the "smart money," when the shares were still trading in the single digits. The Baker Brothers, one of the best performing biotech funds in the world, began purchasing shares. Since 2009, the company has continued to add to its position which currently stands at just over 9 million shares. In fact, the Baker Brothers own 13.3 percent of Pharmacyclics. Since then, other funds have taken big stakes in the company such as T Rowe Price, Vanguard, Capital World Investors, State Street, Goldman Sachs, and Janus Capital.
CytRx has also begun to show signs of following a similar path. During the most recent quarter, several groups purchased new shares in the company such as Nomura Holdings and Goldman Sachs. Additionally, several of the largest financial companies in the world continue to hold a significant position in CytRx such as Barclays, Vanguard, Allianz, Deutsche Bank, California Public Employees Retirement System, and BlackRock.
Investors in CytRx should also know that Dr. Gene Salkind, a highly regarded neurosurgeon, recently filed a 13G showing that he owns just under 3.5 million shares of the company. That is roughly an 8.3 percent ownership stake.
Sudden Share Price Explosion
Shares of CytRx have exploded higher by roughly 165 percent since the company announced the Phase 2b data. While that may seem sudden to some, investors who had been following CytRx for some time probably sensed that a big move was coming. With all the institutional backing and insider buying the company has seen over the past few months, it was only a matter of time before the explosion occurred.
Pharmacyclics had a very similar path to greatness. Back in June, 2011, which seems like so long ago, shares of Pharmacyclics were still trading in the single digits. Then, the explosion came. By the end of July, shares had nearly doubled in value. Since then, the company hasn't looked back as shares now trade well over $100 per share giving the company a market capitalization of over $8 billion.
Conclusion
The similarities between CytRx and Pharmacyclics are hard to ignore. A world class platform that has the potential to cure millions and generate billions, a significant institutional interest, and a rapid share price explosion, all lend credence to the theory that CytRx may soon follow a similar path to Pharmacyclics. Dr. Gene Salkind and the other institutions on board are likely adding to their already massive holdings as I write this article, hoping that this run is just getting started.
James Ratz is a portfolio manager with Zebra Capital based out of Los Angeles. He focuses on providing actionable information to investors of all levels.
Don't Miss: Will 'Big Marijuana' Be Fact or Fiction?