Is Declining Soda Drinking in North America Hurting Pepsi?
PepsiCo's (NYSE:PEP) has a diverse portfolio of 22 brands — from its namesake soda, gatorade, Mountain Dew, and Tropicana juices to snacks like Fritos, Lays, Cheetos, and even Quaker Oats — that product diversity helped the company immensely in the third quarter. While growth in the company's beverage segments slowed or declined in many regions, that hiccup was offset by a sales expansion in its food divisions. The company's name may suggest that is primarily a soda manufacturer, but PepsiCo actually generates approximately half of its revenue from its snack business. The strength in its Frito-Lays snacks enabled the company to report a higher-than-expected profit for the three-month period ended in September.
In particular, the company's North American beverage unit did poorly, as it has for some time. For the division, revenue fell as higher product prices could not manage to offset the 4 percent drop in sales volume. It is because of that outcome, and similar results in past quarters, that activist investor Nelson Peltz's Trian Fund Management wants PepsiCo to split its business, spinning off its beverage division and merging its snacks business Mondelez International (NASDAQ:MDLZ), the Oreo cookie maker than was once part of Kraft Foods (NASDAQ:KRFT).
But executives at PepsiCo are not interested in that suggestion. In a Wednesday interview with Bloomberg Television, Chief Financial Officer Hugh Johnston said that management was concentration on "meeting the needs of the largest group of shareholders, not necessarily one or two of the loudest." Trian owned 12.3 million shares, or 0.8 percent, of PepsiCo as of June 30, and 41 million shares, or 2.3 percent, of Mondelez.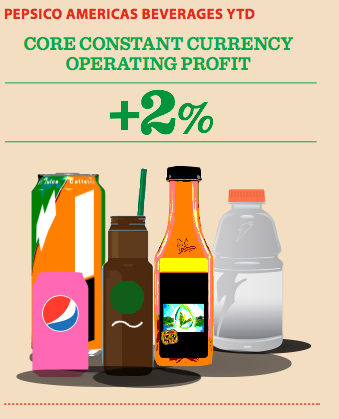 Similarly, in a Wednesday interview with CNBC, Warren Buffett, whose Berkshire Hathaway (NYSE:BRKA)(NYSE:BRKB) is Coca-Cola's (NYSE:KO) largest shareholder, asked, "Why break them up?" He believes "in running a company for the shareholders who are going to stay rather than the ones who are going to leave."
Still, the company is looking at plans to restructure its North American beverage unit, and that includes a spinoff. The results of its review are not expected until early next year.
However, the fact that the company increased its snack sales gave Chairman and Chief Executive Officer Indra Nooyi all the more reason to oppose Pelz's insistence that PepsiCo acquire Mondelez in order to boost value, but the corresponding slumping drinks sales could support the activist investor's push for splitting the beverage business from the food business.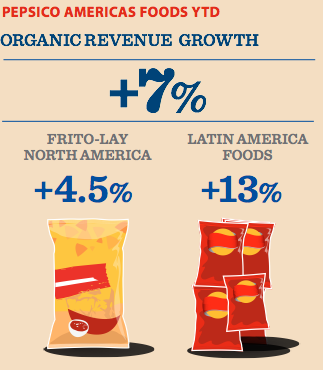 Amidst the spinoff pressure from Trian, PepsiCo remains "focused on growing our business by building our brands, innovating, driving marketplace execution, and delivering higher returns on invested capital through disciplined capital allocation," said Nooyi in the earnings press release.
Even though North Americans tipped back fewer cans of Pepsi and Mountain Dew and many markets continued to experience "ongoing volatility," the beverage and snack maker managed to report third-quarter profit that surpassed analysts expectations. In the three months ended September 7, net income increased 0.6 percent to $1.191 billion, or $1.23 per share, from $1.9 billion, or $1.21, in the year-ago quarter. Excluding some items, profit came in at $1.24 per share. while analysts polled by Bloomberg had expected $1.17 per share.
Total sales edged up 1.5 percent to $16.9 billion, slightly below the $17 billion estimated by analysts. Breaking down that figure shows that revenue from Frito-Lay and other snacks in the Americas increased 7 percent — excluding the impact of acquisitions, divestitures, and foreign-currency fluctuations — while revenue in the company's Americas beverages unit slid 1.5 percent.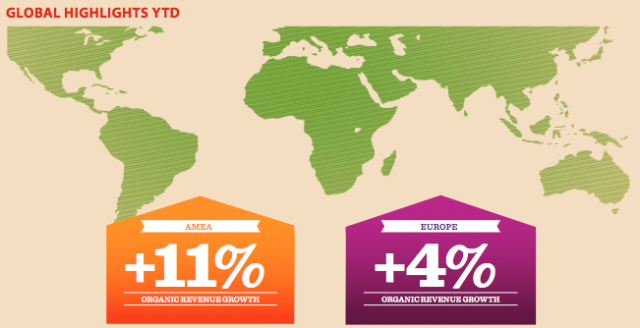 Pepsi shareholders were not overly disappointed with the results, bidding shares up as much as 1.72 percent to $81.99 just after the market opened Wednesday morning. This year to date, shares have climbed 19.83 percent and gained 16.64 percent in the past 12 months.
Comparatively, rival Coca-Cola, the world's largest beverage manufacturer, reported Tuesday that it had expanded market share in the third quarter, with net income rising 5.9 percent to $2.45 billion and revenue dropping 2.5 percent to $12.03 billion. Yet, like PepsiCo, Coca-Cola had trouble in North America as well, although its sales volume remained flat while Pepsi's declined. But, as Coca-Cola's market has become saturated in developed countries and is slowing becoming overloaded in emerging markets, the company must also discover other formulas for growth.
Follow Meghan on Twitter @MFoley_WSCS
Don't Miss: Here's Why P&G and Amazon Are Now Under the Same Roof.