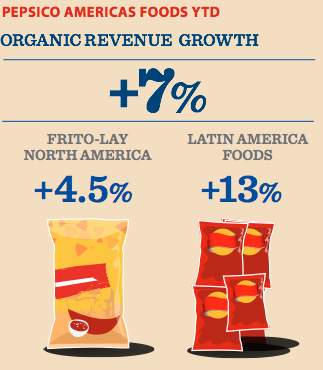 Amidst the spinoff pressure from Trian, PepsiCo remains "focused on growing our business by building our brands, innovating, driving marketplace execution, and delivering higher returns on invested capital through disciplined capital allocation," said Nooyi in the earnings press release.
Even though North Americans tipped back fewer cans of Pepsi and Mountain Dew and many markets continued to experience "ongoing volatility," the beverage and snack maker managed to report third-quarter profit that surpassed analysts expectations. In the three months ended September 7, net income increased 0.6 percent to $1.191 billion, or $1.23 per share, from $1.9 billion, or $1.21, in the year-ago quarter. Excluding some items, profit came in at $1.24 per share. while analysts polled by Bloomberg had expected $1.17 per share.
Total sales edged up 1.5 percent to $16.9 billion, slightly below the $17 billion estimated by analysts. Breaking down that figure shows that revenue from Frito-Lay and other snacks in the Americas increased 7 percent — excluding the impact of acquisitions, divestitures, and foreign-currency fluctuations — while revenue in the company's Americas beverages unit slid 1.5 percent.