Is Exxon Mobil A Worthwhile Investment?
With shares of Exxon Mobil (NYSE:XOM) trading around $87, is XOM an OUTPERFORM, WAIT AND SEE or STAY AWAY? Let's analyze the stock with the relevant sections of our CHEAT SHEET investing framework:
T = Trends for a Stock's Movement
Exxon Mobil is a manufacturer and marketer of commodity petrochemicals, including olefins, aromatics, polyethylene and polypropylene plastics, and a range of specialty products. The company has a number of divisions and affiliates with names that include ExxonMobil, Exxon, Esso or Mobil that operate or market products in the United States and other countries of the world. Exxon Mobil's principal business is energy, involving exploration for and production of crude oil and natural gas; manufacture of petroleum products; and transportation and sale of crude oil, natural gas, and petroleum products. Energy is essential to global growth and day-to-day operations of companies and consumers worldwide. So long as crude oil is a main source of energy, a bellwether like Exxon Mobil will continue to see rising profits well into the future.
Exxon Mobil is selling some of the shares it owns in Iraq's West Qurna-1 oil field, according to a report from Reuters. Twenty-five percent of Exxon's stake is going to China's PetroChina (NYSE:PTR), and 10 percent is going to Indonesia's Pertamina. Exxon Mobil currently holds a 60 percent stake in the $50 billion project. The deal is expected to be completed within the next two to three weeks.
T = Technicals on the Stock Chart are Weak
Exxon Mobil stock has struggled to make positive moves this year. The stock is currently trading at the lower boundary of its yearly range. Analyzing the price trend and its strength can be done using key simple moving averages. What are the key moving averages? The 50-day (pink), 100-day (blue), and 200-day (yellow) simple moving averages. As seen in the daily price chart below, Exxon Mobil is trading below its key averages which signal neutral to bearish price action in the near-term.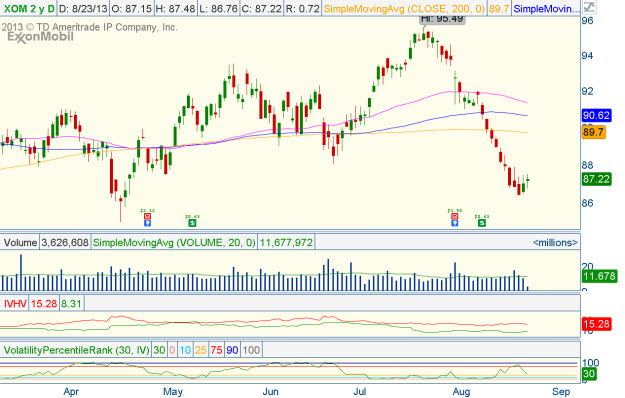 (Source: Thinkorswim)
Taking a look at the implied volatility (red) and implied volatility skew levels of Exxon Mobil options may help determine if investors are bullish, neutral, or bearish.
| | | | |
| --- | --- | --- | --- |
| | Implied Volatility (IV) | 30-Day IV Percentile | 90-Day IV Percentile |
| Exxon Mobil Options | 15.28% | 30% | 28% |
What does this mean? This means that investors or traders are buying a minimal amount of call and put options contracts, as compared to the last 30 and 90 trading days.
| | | |
| --- | --- | --- |
| | Put IV Skew | Call IV Skew |
| September Options | Steep | Average |
| October Options | Steep | Average |
As of today, there is an average demand from call buyers or sellers and high demand by put buyers or low demand by put sellers, all neutral to bearish over the next two months. To summarize, investors are buying a minimal amount of call and put option contracts and are leaning neutral to bearish over the next two months.
On the next page, let's take a look at the earnings, revenue growth rates, and the conclusion.
E = Earnings Are Mixed Quarter-Over-Quarter
Rising stock prices are often strongly correlated with rising earnings and revenue growth rates. Also, the last four quarterly earnings announcement reactions help gauge investor sentiment on Exxon Mobil's stock. What do the last four quarterly earnings and revenue growth (Y-O-Y) figures for Exxon Mobil look like and more importantly, how did the markets like these numbers?
| | | | | |
| --- | --- | --- | --- | --- |
| | 2013 Q2 | 2013 Q1 | 2012 Q4 | 2012 Q3 |
| Earnings Growth (Y-O-Y) | -54.55% | 6.00% | 11.33% | -1.88% |
| Revenue Growth (Y-O-Y) | -16.41% | -12.29% | -5.29% | -7.68% |
| Earnings Reaction | -1.08% | -1.52% | 0.07% | 0.47% |
Exxon Mobil has seen mixed earnings and decreasing revenue figures over the last four quarters. From these numbers, the markets have had mixed feelings about Exxon Mobil's recent earnings announcements.
P = Average Relative Performance Versus Peers and Sector
How has Exxon Mobil stock done relative to its peers, BP (NYSE:BP), Chevron (NYSE:CVX), Royal Dutch Shell (NYSE:RDSA), and sector?
| | | | | | |
| --- | --- | --- | --- | --- | --- |
| | Exxon Mobil | BP | Chevron | Royal Dutch Shell | Sector |
| Year-to-Date Return | 1.01% | -0.41% | 10.18% | -6.69% | 1.92% |
Exxon Mobil has been an average relative performer, year-to-date.
Conclusion
Exxon Mobil is a provider of essential commodity products and services that people and companies use around the world. The company is reportedly selling portions of its stake in a large oil field project located in Iraq. The stock has not done well this year and is now trading near the lower-end of its yearly range. Over the last four quarters, earnings have been mixed while revenues have been decreasing which has produced mixed feelings among investors in the company. Relative to its peers and sector, Exxon Mobil has been an average year-to-date performer. WAIT AND SEE what Exxon Mobil does this coming quarter.
Using a solid investing framework such as this can help improve your stock-picking skills. Don't waste another minute — click here and get our CHEAT SHEET stock picks now.