Is Exxon's Stock Priced Low Enough to Buy?
With shares of Exxon Mobil Corporation (NYSE:XOM) trading around $87.21, is XOM a Buy, a Wait and See, or a Stay Away? Let's analyze the stock with the relevant sections of our CHEAT SHEET investing framework:
C = Catalyst for the Stock's Movement
Exxon Mobil posted third-quarter results at the beginning of November that exceeded expectations. Revenue fell 7.7 percent to $115.71 billion, ahead of estimates of $115.08 billion. Net income fell 7.4 percent to $9.57 billion, or $2.09 per share, ahead of expectations of $1.96 per share.
In the middle of October, ExxonMobil Canada acquired Celtic Exploration for about $3.14 billion. The deal launched Exxon Mobil into the Canadian shale oil and gas game, with 545,000 net acres in the liquids-rich Montney shale, and 104,000 net acres in the Duvernay shale. The area's resources are estimated to be 76 percent natural gas and 24 percent crude oil.
The company also increased its holdings in the Bakken formation by purchasing 196,000 acres from Denbury Resources (NYSE:DNR) for $1.6 billion, increasing Exxon Mobil's stake in the region by 50 percent.
T = Technicals on the Stock Chart are Strong
As of November 8, the stock price is 4.02 percent below its 20-day simple moving average, or SMA; 3.46 percent below its 50-day SMA; and 2.18 percent above its 200-day SMA. The stock price has come down nearly 5.5 percent in the past month, partially due to volatility associated with the presidential election on November 6. Lower upstream volume and decreased gains from asset sales have also pulled the stock price down recently.
Since the beginning of 2012, the stock price has been in a slightly upward trend, gaining 1.34 percent this year to date, and 12.61 percent year over year. The stock is trading in a 52-week range of $73.90-$93.67.
For comparison, shares of British Petroleum (NYSE:BP) have lost 7.45 percent of their value this year to date, and 3.72 percent year over year, while Chevron Corporation (NYSE:CVX) has dropped 4.2 percent this year to date, and climbed 1.39 percent year over year.
E = Earnings are Increasing Quarter over Quarter
As is the case with pretty much every company, earnings collapsed in 2009 after the financial crisis. Earnings per share dropped over 54 percent for the year, but rebounded in 2010, growing over 56 percent. Exxon Mobil is sensitive to changes in the global economy and global energy prices, but the company's core ability to generate revenue and produce earnings has not been undermined.
| | | | | | |
| --- | --- | --- | --- | --- | --- |
| | 2007 | 2008 | 2009 | 2010 | 2011 |
| Revenue ($) in millions | 358,600 | 425,071 | 275,564 | 341,578 | 433,526 |
| Diluted EPS ($) | 7.28 | 8.69 | 3.98 | 6.22 | 8.42 |
Revenue estimates for 2012 are coming in at a healthy $460.74 billion, while earnings per share estimates come in lower than 2011 at $7.80.
On a quarterly basis, earnings look like a microcosm of turbulent economic conditions. Third-quarter losses have largely been attributed to lower upstream volume.
| | | | | | |
| --- | --- | --- | --- | --- | --- |
| | Sept. 30, 2011 | Dec. 31, 2011 | Mar. 31, 2012 | June 30, 2012 | Sept. 30, 2012 |
| Revenue ($) in millions | 111,991 | 107,419 | 100,398 | 112,745 | 115,706 |
| Diluted EPS ($) | 2.13 | 1.93 | 2.00 | 3.42 | 2.08 |
Earnings estimates for the fourth quarter are coming in at an average of $2.02 per share, with revenue estimated at $120.32 billion.
T = Trends Support the Industry in which the Company Operates
Throwing away the argument that oil and natural gas plays are ultimately doomed because they are pollutants and non-renewable, the industry has a positive near- and mid-term outlook.
The share of non-fossil fuels in the energy mix will grow rapidly heading into 2035, and the share of fossil fuels in the mix will inevitably shrink. However, the Energy Information Administration expects oil to still account for about 29 percent of the mix through 2035, larger than any other single energy source. Natural gas is expected to account for about 23 percent of the mix in the coming decades, while coal is expected to account for 27 percent. Renewable energy sources such as biofuels, solar, and wind will grow at the expense of non-renewable sources, moving from about 10 percent in 2008, to an expected 14 percent in 2035.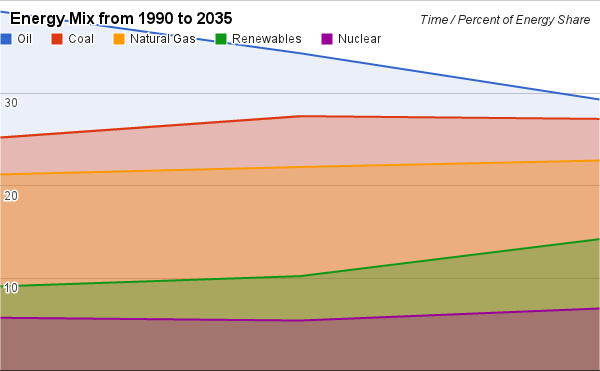 Exxon Mobil's gas plays in North America will be critical to its success in the coming years. Evidence points toward the rise of natural gas as an energy source, particularly in developed regions. Coal demand has shrunk to just 20 percent of the energy share in developed countries, and while thermal and metallurgical coal demand is expected to rise in rapidly industrializing nations like China and India, natural gas exports from North America look poised to compete against coal on a global basis in the coming years.
Exxon Mobil's chemical division, despite relatively weak earnings in the last quarter, positions the company in a particularly stable spot. If the company can figure out how to recover its margins, downstream operations could easily compensate for reduced upstream volume.
Even compensating for the development of energy-efficient technology, global energy demand is expected to increase by 30 percent from 2010 to 2040. Oil use is expected to grow 0.7 percent annually, while natural gas use is expected to grow 1.6 percent annually. Exxon Mobil is positioning itself for success with strong shale plays.
Conclusion
At its current price of $87.21, Exxon Mobil feels like it is well valued with some room for growth. The mean analyst estimate is $93.69 with most analysts maintaining a "Hold" rating. However, there are a significant number of bulls keeping a "Buy" or "Strong Buy" rating on the stock, and no bears with an "Underperform" or "Sell."
Also attractive is a solid trailing dividend yield of 2.5 percent that should only increase in the foreseeable future.
Because of this, and the metrics above, Exxon Mobil is a Buy at its current price.
Using a solid investing framework such as this can help improve your stock-picking skills. Don't waste another minute – click here and get our CHEAT SHEET stock picks now.