Is Facebook Climbing the Great Wall of Government Regulation?
China is the world's largest Internet market, with more than 500 million users. The country is the most socially-engaged users in the world, with 84 percent of the Internet population contributing at least once a month to social-media related activities. Despite being banned in China, Facebook (NASDAQ:FB) continues to climb the great wall of government regulation.
Catalysts are critical to discovering winning stocks. Check out our newest CHEAT SHEET stock picks now.
The Mark Zuckerberg led company was originally blocked in 2009, due to China viewing the social network as a tool to organize protests against the country. However, where there is a will, there is a way. According to London-based researcher GlobalWeblndex, Facebook increased its Chinese user base to 63.5 million users in the second quarter of 2012, a significant increase from only 7.9 million three years ago. Twitter, which is also banned in China, has grown to 35 million users.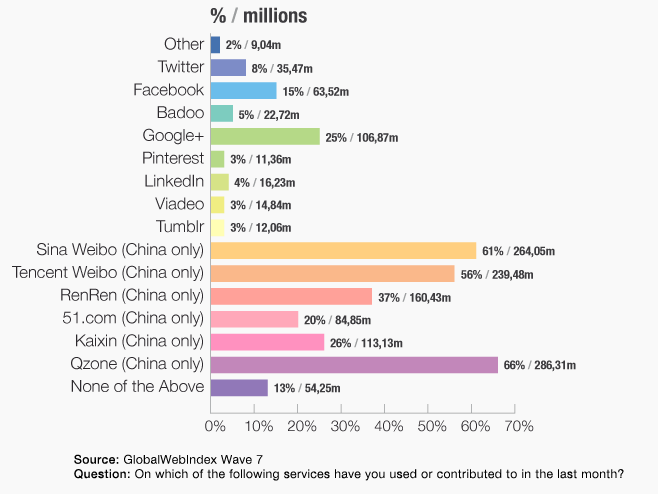 Facebook has managed to capture 15 percent of the Chinese Internet population via proxy services, which allows users to skirt government restrictions. GlobalWebIndex explains, "It only takes a little bit of desk research to discover that what is called the 'Great Firewall' is actually much more porous than the Chinese government would like to admit. On closer inspection, Chinese users are using VPNs (Virtual Private Networks), VCN (Virtual Cloud Networks) or connections at work that may be routed internationally. Crucially, this means that users won't be picked up in analytics and will not register as being in a Chinese location at all!"
Although Facebook has increased its audience in China, it still lags behind more Chinese-friendly social media outlets. Sina Weibo (NASDAQ:SINA) has 264 million users, or roughly 61 percent of the nation's Internet users. Meanwhile, RenRen (NYSE:RENN) and Google+ (NASDAQ:GOOG) have 160 million and 107 million users, respectively. LinkedIn (NYSE:LNKD) is the exception, with only 16 million users.
Investor Insight: Facebook: The Next E-Commerce Giant?