Will Facebook Rally Stick Around?
Facebook (NASDAQ:FB) shares are quickly becoming an investor's new best friend. Since hitting as low as $25.50 on June 6, shares of the company have surged nearly 30 percent. In comparison, the Nasdaq Composite (NASDAQ:QQQ) has only increased 1.5 percent. Although Facebook as been generating positive news, is the most recent run-up just a short-covering rally?
The social-media juggernaut made its Nasdaq debut on May 18 and quickly became one of the biggest initial public offering busts in years. Shares took the elevator down and closed well below its IPO price of $38 on its second day of public trading. By the end of May, shares closed under $30 and about 8 percent of the 421 million shares in the IPO deal were sold short. That percentage is lower than other popular internet names such as LinkedIn Corp. (NYSE:LNKD), Pandora Media, Inc. (NYSE:P) and Groupon Inc. (NASDAQ:GRPN), but still represents a decent amount.
Don't Miss: Is This the Catalyst Microsoft Investors Have Been Awaiting?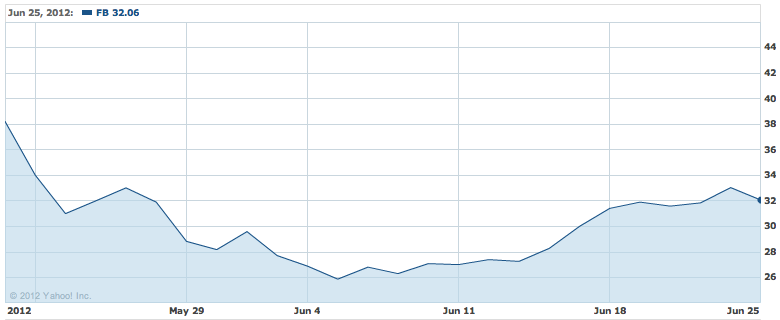 As the chart above shows, shares of Facebook made at least a short-term bottom earlier this month and are successfully poking through $30. The company has received heavy criticism for its lack of detail involving a monetization plan for its 900 million users, especially after General Motors (NYSE:GM) announced it would be pulling Facebook ads due to their ineffectiveness. However, Ford Motor Co. (NYSE:F) and Coca-Cola Co. (NYSE:KO) separately said they found value in Facebook advertising, giving the social networking site a big vote of confidence and a reason for short-sellers to doubt themselves.
Perhaps the biggest concern for Facebook short-sellers is analyst coverage, which kicks into high gear on Wednesday. Several banks that were involved in the company's IPO will be allowed to publish a detailed analysis of Facebook for the first time. Tuesday marked the end of a 40-day quiet period for lead underwriters such as Morgan Stanley (NYSE:MS), JPMorgan Chase (NYSE:JPM) and Goldman Sachs (NYSE:GS). The majority of new analyst coverage on Facebook is expected to be positive, which could extend the current rally in Facebook and send short-sellers screaming for the exits.
While short-selling is likely responsible for some of Facebook's jump in June, there are also fundamental factors at work. The company recently announced it is expanding its advertising reach by showing ads on Zynga Inc.'s (NASDAQ:ZNGA) website. It is the first time Facebook has distributed ads beyond its own website. Going forward, it will become increasingly important for investors to keep an eye on how well Facebook can monetize its massive user-base. The company is set to announce its first earnings release since going public in late July.
Investor Insight: Are Big Box Retail Stocks DYING?