Is Fed Exit Talk Giving Mr. Market the Shakes?
It's no secret that the Federal Reserve has been working on an exit map for a while now. At the beginning of the year, the Fed made it clear that it would begin winding down its bond-buying program as economic conditions, measured against a 6.5 percent U-3 unemployment rate and bounded by 2 percent inflation, improved.
While unemployment remains high — 7.5 percent as of the last federal release — it has steadily trended lower over the past three years. Inflation remains in check, averaging 1.2 percent over the past four quarters, and a myriad of other economic indicators stretching from the housing market to retail and automobile sales suggest that the U.S. economy may finally be ready to stand on its own two feet again.
What this means, specifically, is that the Federal Reserve policymakers are seriously entertaining the idea of winding down asset purchases. This is the first step to winding down its now enormous balance sheet (currently about $3.2 trillion, compared to $870 billion before the crisis) and eventually, tightening monetary policy.
Bernanke and his supporters have defended current Fed policy against a number of critics over the past several years, with debate heating up recently in light of broadly improving conditions.
Taking anecdotal evidence for what it is, economic confidence for the week ended May 4 matched the five-year weekly high set earlier in February. The index in April tied the five-year monthly best, alluding to an American public that is finally expecting better days ahead, instead of worse.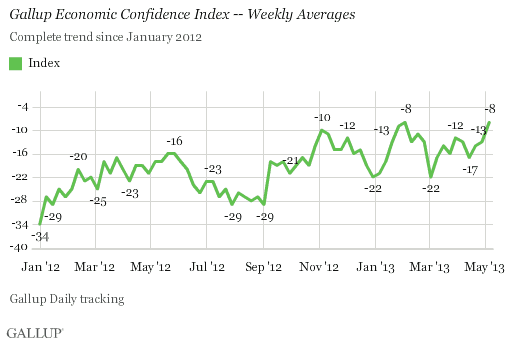 But the (arguably) better gauge of economic sentiment is the U.S. stock market. Equities have pretty much done nothing but rally since hitting post-crisis lows in 2009, and — juiced up on the Fed's stimulus — have set a number of new records.

However, if recent history has taught investors anything, it's that Mr. Market has become addicted to the Fed's stimulus program, and even whispers about ending asset purchases have the ability to drive stocks lower.
This withdrawal seemed to be in play on Monday morning as major markets declined despite a better-than-expected retail sales report. Recently, Fed policymakers have punctuated public comments and interviews with the idea that the beginning of the end of the current monetary policy is within sight.
Testifying before Congress in February, Chairman Ben Bernanke highlighted transparency as one of two tools left to Fed policymakers in light of the failure of traditional monetary easing to spur economic growth.
"Under normal circumstances," Bernanke said in his February testimony before Congress, "policy accommodation would be provided through reductions in the FOMC's target for the federal funds rate – the interest rate on overnight loans between banks." Reducing this rate to its current near-zero level was one of the first moves that the Fed made.
"However," continued Bernanke, "as this rate has been close to zero since December 2008, the Federal Reserve has had to use alternative policy tools." The first of these alternative policy tools is the bond-buying program. The second is the unprecedented transparency that Bernanke has made a hallmark of his tenure, and that is already defining the budding exit strategy.
Policymakers have made it very clear that when the Fed acts, it will do so slowly, and it will make sure the markets know exactly what to expect. Even Richard Fisher, president of the Federal Reserve Bank of Dallas and a Fed hawk who has been critical of easy-money policies, favors a slow retreat from the current position. Moving too quickly could easily shock the markets and undo gains. However, acting too slowly could overheat markets that some investors feel are already hot.
Speaking before Congress earlier in the year, Bernanke described the labor market as "improving gradually," though "generally weak," and the U.S. economy as expanding at a "moderate if somewhat uneven pace."
In his perspective, flat-to-negative fourth-quarter GDP growth should be interpreted as an effectively seasonal fluctuation, and should not be taken to indicate the beginning of another recessionary period. The fourth-quarter pause in economic activity punctuated about 3 percent annual growth in 2012.
Investing Insights: Is The Carlyle Group a Quality Dividend Play?