Is Fracking Causing a Beer Crisis in Europe?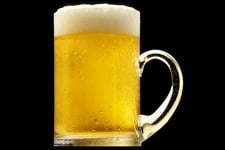 Europe may be heading for a crisis, and Germany is at the center of it all. I'm talking about a beer crisis.
The Brauer-Bund association of German brewers fears that the water and chemical mix pumped under high pressure into shale formations as part of the hydraulic fracturing process could pollute water sources that are vital to the brewing industry. They have warned Chancellor Angela Merkel that Germany's famous 500-year old beer industry is under serious threat from fracking, and they urge that more studies be undertaken before any decision to allow the technique is taken.
Under Germany's purity law, the 'Reinheitsgebot', all German brewers can only use malt, hops, yeast, and water, to brew their beers. A Brauer-Bund spokesman explained that, "the water has to be pure and more than half Germany's brewers have their own wells which are situated outside areas that could be protected under the government's current planned legislation on fracking. You cannot be sure that the water won't be polluted by chemicals so we have urged the government to carry out more research before it goes ahead with a fracking law."
Germany is Europe's largest producer of beer, with more than 1,300 breweries offering around 5,000 different beers. A serious disruption to this industry really would affect the supplies of beer all around Europe.
German industry has asked for research to be held into the size of shale gas reserves, and its potential as a source of energy, but opposition parties could easily block any law passed in the upper house of parliament which makes it unlikely that any decision on fracking will be made before elections in September.
Originally written for OilPrice.com, a website that focuses on news and analysis on topics of alternative energy, geopolitics, and oil and gas. OilPrice.com is written for an educated audience that includes investors, fund managers, resource bankers, traders, and energy market professionals around the world.
Don't Miss: Bank of America and Wells Fargo Accused of Putting Profits Ahead of People.