Is Freeport-McMoRan Copper & Gold's Stock on Clearance?
With shares of Freeport-McMoRan Copper & Gold (NYSE:FCX) plunging nearly 20 percent in only two trading days, is the world's largest publicly traded copper company an OUTPERFORM, a WAIT AND SEE, or a STAY AWAY?
Let's analyze the stock with the relevant sections of our CHEAT SHEET Investing Framework:
E = Earnings Are Mixed Quarter over Quarter
The Arizona-based miner has a good track record of beating analysts' estimates. Over the past eight quarters, Freeport has surprised to the upside on earnings every time. In the third quarter, adjusted earnings of 86 cents per share easily beat expectations of 73 cents per share. It was also an increase from 80 cents in the second quarter, but a decrease from the 96 cents in the first quarter. In comparison, Freeport earned $1.10 per share in the third quarter of 2011.
In the latest earnings statement, James R. Moffett, chairman of the board, and Richard C. Adkerson, president and chief executive officer, said, "Our global team continues to focus on execution of our plans to achieve efficient and safe production, effective cost management, investment in financially attractive projects and identification of additional reserves and resources."
Earlier this week, investors found out what kind of projects executives found to be financially attractive…
C = Catalyst for a Stock's Movement
One of the core components of our CHEAT SHEET Investing Framework focuses on catalysts that will move a company's stock. Mergers and acquisitions have the potential to move a stock dramatically higher, but it can also drill shares painfully lower.
Freeport announced on Wednesday that it agreed to purchase Plains Exploration & Production (NYSE:PXP) for approximately $6.9 billion in cash and stock, while also buying McMoRan Exploration (NYSE:MMR) for about $3.4 billion in cash, or $2.1 billion net of 36 percent of McMoRan assets currently owned by Freeport and Plains. The acquisitions include about $11 billion in assumed debt, and McMoRan Exploration shareholders will receive a distribution of units in a royalty trust that will hold a 5 percent overriding royalty interest on future production in the company's existing shallow water ultra-deep properties.
Catalysts are critical to discovering winning stocks. Check out our newest CHEAT SHEET stock picks now.
The deal gives Freeport stronger exposure to the oil and gas business, which it got into during the 1970s, but sold many of its assets in the 1990s to develop copper and gold projects.
James R. Moffett, chairman of the board for Freeport, explains in a press release, "FCX has been built through our exploration and development capabilities, and this transaction will enable us to add assets with exceptional exploration and development potential to a world-class mining company to create a premier minerals and oil and gas business focused on value creation for shareholders. The transaction offers significant values to the MMR and PXP shareholders and will enable FCX to build on these values through a much larger, well capitalized platform."
Investors did not feel the same way…
T = Technicals on the Stock Chart are Improving
Shares of Freeport plunged 16 percent on the day of the deal announcement. The following day, shares declined another 4 percent. Wall Street firms such as Citigroup (NYSE:C), Goldman Sachs (NYSE:GS) and RBC Capital all downgraded the miner. However, Freeport traded in the green on Friday as shares bounced off support levels.
As the chart below shows, Freeport has seen support in the $30-$32.50 range several times since last year. Although shares gapped lower on the acquisition news, it was encouraging to see the $30 level hold.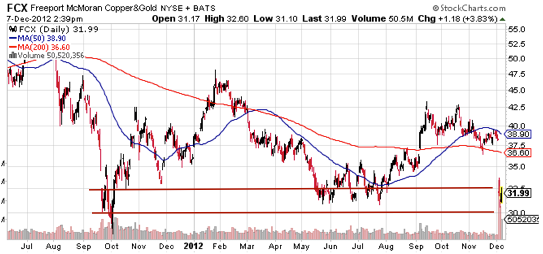 Conclusion
Freeport is still a large cap company with real assets backing its operations. The selloff in the stock was mostly like due to the surprise of Freeport diversifying away from a pure copper and gold play. Investors looking for a pure play on copper are now more likely to consider Southern Copper (NYSE:SCCO). Furthermore, Freeport paid a pretty penny in the deal. Freeport is coughing up about $50 a share for Plains, representing a 39 percent premium to the closing price prior to the deal, and $14.75 a share for McMoRan, a 74 percent premium.
Although Freeport is expanding beyond copper and gold, the future looks positive for the oil and gas industry, as energy and metals will be needed in the foreseeable future. Additionally, massive central bank easing taking place around the world provides support to commodities across the board. In a vote of confidence, JPMorgan Chase (NYSE:JPM) also made $9.5 billion of financing commitments to Freeport. Considering these components of our CHEAT SHEET Investing Framework, Freeport is a WAIT AND SEE for investors worried about its increased exposure to commodities, but an OUTPERFORM for those willing to wait for a recovery as Mr. Market digests the recent news, while collecting a dividend of nearly 4 percent.
Using a solid investing framework such as this can help improve your stock-picking skills. Don't waste another minute — click here and get our CHEAT SHEET stock picks now.