Is Germany's Decline Europe's Latest Economic Worry?
Major European markets soared in afternoon trading on Tuesday. The STOXX 50 index, the region's leading Blue-chip index, was up as much as 2.89 percent, a remarkable accomplishment given year-to-date gains through Monday of just 1.62 percent.
The surge, ironically enough, could be the result of underwhelming economic data released by research firm Markit. The firm reported that while its PMI Composite Output Index remained unchanged at 56.5, its Manufacturing PMI Index fell to a four-month low of 46.5. The Manufacturing Output Index echoed the losses, and also fell to a four-month low at 46.3.
"Although the PMI was unchanged in April, the survey is signalling a worrying weakness in the economy at the start of the second quarter, with signs that the downturn is more likely to intensify further in coming months rather than ease," commented Markit Chief Economist Chris Williamson in the report.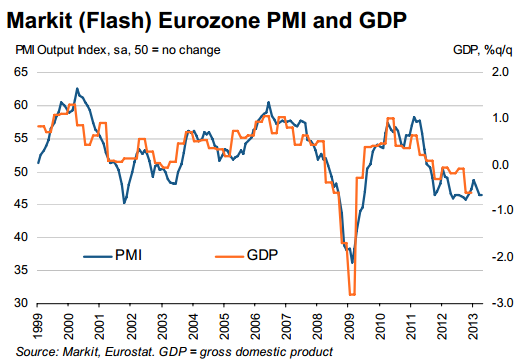 Combined with high unemployment, the PMI data suggest that the European downturn may not have actually hit a bottom, as optimists suggest. What is particularly worrisome is that Germany private sector output declined. Germany, as the region's largest economy, has served as a backbone of the recovery effort. The German Composite Output Index fell to 48.8, indicating contraction and a six-month low.
"The performance of Germany's private sector has shown a weakening trend in each of the past three months and, more worryingly, April's survey highlights an outright decline in output for the first time since late 2012," commented Williamson. "The latest figures suggest any rebound in GDP over the first quarter could be rather short-lived, not least as the manufacturing and service sectors both recorded faster declines in new orders than one month earlier."
Because of the disappointing economic data, equity investors may be hoping that the European Central Bank will cut its benchmark rate, which currently sits at 0.75 percent.
Don't Miss: Manufacturing Expectations Fall On Weak Data.