Is GM Really Making the Cleanest Car in America?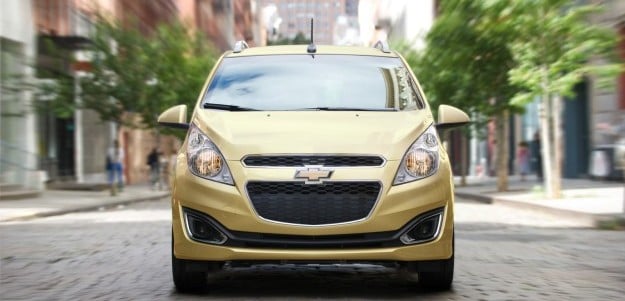 From the mythic-like manner in which General Motors (NYSE:GM) described its latest model of the Chevrolet Spark EV, it looks as if Toyota's (NYSE:TM) Prius and Ford's (NYSE:F) Fusion Hybrid may see some serious competition. The automaker even called it the industry benchmark in retail electric vehicle sales.
General Motors announced Wednesday that its redesigned 2014 Chevrolet Spark EV will not only be the most efficient electric vehicle on the road, but the most efficient passenger vehicle in today's marketplace. Chevrolet spokesman Randy Fox told The Detroit News that the Spark — which operates without using one drop of gasoline — will surpass the mile-per-gallon stickers of all other vehicles currently available.
The Spark will achieve an Environmental Protection Agency rated range of 82 miles of city and highway driving at full charge, noted the publication. In addition, the Detroit automaker said that the fuel efficiency rating given to the vehicle by the EPA was set at 119 miles per gallon equivalent — the highest rating of any electric vehicle sold in the retail market. Because the Spark uses no gasoline, MPGe is an equivalency formula that the agency developed to calculate a value comparable to fuel consumption. Therefore, this amended rating enables car buyers to compare the Spark's efficiency to other electric vehicles and gasoline-powered cars.
EXCLUSIVE OFFER! Take Advantage of the Tax Relief 50% Off Sale for a Limited Time. CLICK HERE for your Weekly Stock Cheat Sheets NOW!
As evident in the EPA's rating, "consumers will use less electricity to drive each mile," as Fox wrote in an email to The Detroit News. "In other words, we are the lowest EV on a cost per mile basis." With less electricity used to drive each mile, GM said the Spark EV could possibly save owners up to $9,000 in fuel costs over a five year period, when compared to an average new vehicle…
"Being able to provide our customers with the best overall efficiency of any retail EV has always been a key target for the Spark EV engineering team," said Pam Fletcher, GM executive chief engineer for electrified vehicles, in a statement. "We're poised to deliver to the market an EV that's not just efficient, but also thrilling to drive thanks to the 400 foot pounds of torque output to its electric motor."
The Spark EV will go on sale in California and Oregon this summer. Pricing has not been officially set, but GM has said the vehicle will cost less than $25,000 after subtracting the $7,500 federal income tax credit.
EXCLUSIVE OFFER! Take Advantage of the Tax Relief 50% Off Sale for a Limited Time. CLICK HERE for your Weekly Stock Cheat Sheets NOW!
But the Spark will enter a tough market, especially as it has a reputation to build. In a hybrid and electric vehicle buying guide compiled by edmunds.com for 2013, the Chevrolet Spark did not even receive mention. Topping its list of top hybrid cars under $40,000, was the 2013 Ford Fusion Hybrid followed by the Toyota Prius C. For fully electric vehicles priced under $40,000, the automotive data website picked the Chevrolet Volt and the Nissan (NSANY.PK) Leaf. The company's review of the 2013 Chevrolet Spark was less than laudatory. While edmunds.com gave the Spark points for packing "enough personality and available features to fend off any perception as an econo-pod," the reviewer noted that "with only 84 hp — less than many motorcycles — it's clear that the 2013 Chevrolet Spark is not intended to excite or inspire."
Don't Miss: Are Home-Grown Sales Driving Ford to Success?