Is GM Taking Risks by Pitting Cadillac Against Tesla?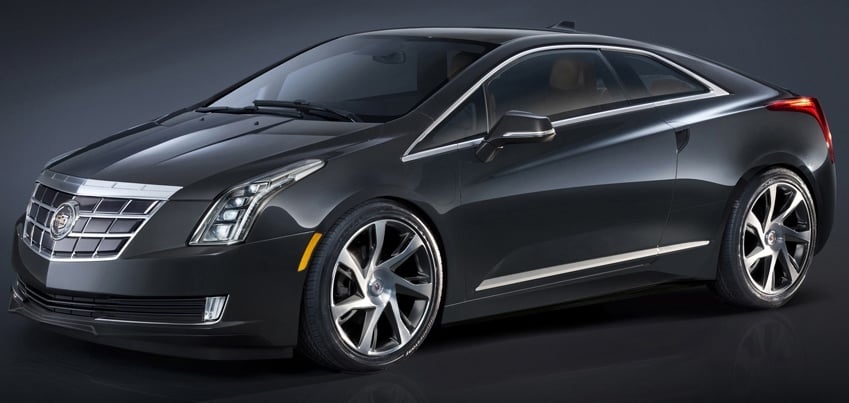 It is difficult to overstate the buzz General Motors (NYSE:GM) generated showcasing the Cadillac ELR hyrbid at the January 2013 Detroit Auto Show. Vanity Fair called it one of the hottest cars there; Wired said it brought "sexy sophistication" to a boring segment; and Green Car Reports named one of the best-looking Caddies of all time. January 2013 was then; Tesla (NASDAQ:TSLA) is now.
As GM plots its role in the future of electric vehicles, top executives see limited production volumes ahead for the industry, and are pitting the Cadillac brand against Tesla in a move that could have enormous implications for the company. In fact, General Motors Chief Executive Dan Akerson said he doesn't see a major demand for electric cars ahead — even ones that can top 200 miles or, like the Tesla Model S, 265-300 miles on a charge.
"What we see on the line of sight is a 200-mile battery car, but at the same time 200 miles is great, but it's not going to satisfy the range anxiety that persists," Akerson told reporters in Washington this week, according to The Detroit News. Akerson went on to say he sees Cadillac as the GM brand to use in combating Tesla in the burgeoning industry. Looking at the Cadillac ELR, a hybrid that wil be released early in 2014, it's clear this model is not the one to do it.
The Cadillac ELR is a hybrid that will only travel 35 miles or fewer on a full charge. With a full tank of gas, the ELR would be able to travel about 300 miles, a number which is equal to the high end of the performance Model S. GM made news earlier this week when the company gave a tour of its Global Battery Systems lab in Michigan, a workplace GM recently tripled in size.
The expansion of the battery lab was completed to develop a vehicle capable of covering 200 miles on a full charge, and one that would cost around $30,000. It's an ambitious goal that even brought Tesla Chief Executive Elon Musk to his smartphone to dash off a tweet of encouragement to General Motors.
"Am happy to hear that GM plans to develop an affordable 200 mile range electric car. Right target. Hope others do same," said the wizard of Palo Alto Wednesday. Musk, who genuinely believes in the power of the electric vehicle movement, would likely disagree with other remarks Dan Akerson delivered on the viability of electric cars with a range over 200 miles.
"It's still a major issue with the purchasing public and I think you've got to have a generator on board so that you basically have unlimited range," Akerson told The Detroit News. In fact, Akerson went on to tell the news outlet he nixed the idea to take a federal loan of $14.4 billion for the development of electric vehicles.
As Akerson faced a skeptical public during the aftermath of the General Motors bailout, that move was prudent on the part of a chief executive. However, Akerson's belief drivers need more than 200 to 300 miles in range is missing one of Tesla's most important projects: its charging networks.
Instead of trying to give EVs unlimited range or tethering them to gas-powered motors, Tesla sees a world in which chargers are as ubiquitous as — and one day replace — gas stations. Akerson's vision is for a world where internal combustion engines still exist, and electric cars are luxury vehicles for the privileged. If that's the case, GM may be pursuing a strategy it comes to regret.
Don't Miss: 7 Cars to Hide Away From the Kids.