Is Hewlett-Packard a Hot Stock?
With shares of Hewlett-Packard (NYSE:HPQ) trading around $33, is HPQ an OUTPERFORM, WAIT AND SEE, or STAY AWAY? Let's analyze the stock with the relevant sections of our CHEAT SHEET investing framework:
T = Trends for a Stock's Movement
Hewlett-Packard provides products, technologies, software, solutions, and services to individual consumers, small and medium businesses, and large enterprises worldwide. The company offers commercial notebooks and desktops, consumer notebooks, desktops, software, and services for the commercial and consumer markets. The services segment provides consulting, outsourcing, and technology services to infrastructure, applications, and business process domains. The diverse technological products and services offered by Hewlett-Packard make it a leading provider that sees increased demand through global expansion.
Hewlett-Packard's plan to eliminate as many as 16,000 jobs, bringing the total worker cuts up to nearly 50,000, will make the company "more efficient and effective," CEO Meg Whitman said Friday. The job cuts are part of Whitman's five-year plan to turn the PC maker around and is the third upward revision to job eliminations since her strategy went into effect two years ago. The pink slips will be spread across the company and will affect all geographic regions, Whitman said. The layoff totals count for between 3 percent and 5 percent of HP's overall workforce, and they are expected to save HP $1 billion in operating costs by 2016. Whitman said that years of mergers and acquisitions have bloated HP's headcount. The company bought Compaq in 2002, EDS in 2008, and 17 different software companies over the years. EDS alone had almost 140,000 employees when HP made its offer. "These acquisitions never got integrated quite the way they should have," said Whitman in an interview on CNBC's Squawk on the Street. "And there still is pockets, big pockets of inefficiencies."
Whitman told Re/Code Thursday that this is the last increase to job cuts as part of her restructuring plan. Slimming down the HP workforce will help meet customers demands faster and better, as many buyers find that the company is "a little bit difficult to do business with," she said. "We need to have speed and agility. We need to be nimble in what is an enormously rapidly changing marketplace," said Whitman. "So, while no one likes to reduce the workforce, this will be good for our customers and good for Hewlett-Packard." Investors seem to agree with the chief executive as the stock gained 5.6 percent since the announcement Thursday after market close. That's the biggest boost in six months — a gain achieved even after reporting an 11th straight quarter of declining sales.
T = Technicals on the Stock Chart Are Strong
Hewlett-Packard stock has performed well over the past couple of months. The stock is currently trading near highs for the year and looks set to continue this path. Analyzing the price trend and its strength can be done using key simple moving averages. What are the key moving averages? The 50-day (pink), 100-day (blue), and 200-day (yellow) simple moving averages. As seen in the daily price chart below, Hewlett-Packard is trading above its rising key averages which signal neutral to bullish price action in the near-term.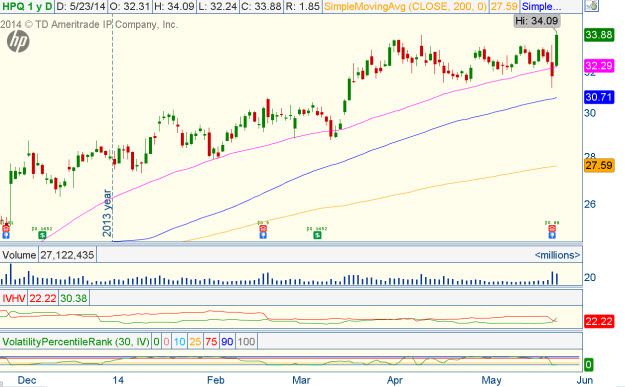 (Source: Thinkorswim)
Taking a look at the implied volatility (red) and implied volatility skew levels of Hewlett-Packard options may help determine if investors are bullish, neutral, or bearish.
| | | | |
| --- | --- | --- | --- |
| | Implied Volatility (IV) | 30-Day IV Percentile | 90-Day IV Percentile |
| Hewlett-Packard options | 22.22% | 0% | 0% |
What does this mean? This means that investors or traders are buying a very small amount of call and put options contracts, as compared to the last 30 and 90 trading days.
| | | |
| --- | --- | --- |
| | Put IV Skew | Call IV Skew |
| June Options | Flat | Average |
| July Options | Flat | Average |
As of today, there is an average demand from call buyers or sellers and low demand by put buyers or high demand by put sellers, all neutral to bullish over the next two months. To summarize, investors are buying a very small amount of call and put option contracts and are leaning neutral to bullish over the next two months.
On the next page, let's take a look at the earnings and revenue growth rates and the conclusion.
E = Earnings Are Mixed Quarter-Over-Quarter
Rising stock prices are often strongly correlated with rising earnings and revenue growth rates. Also, the last four quarterly earnings announcement reactions help gauge investor sentiment on Hewlett-Packard's stock. What do the last four quarterly earnings and revenue growth (Y-O-Y) figures for Hewlett-Packard look like and more importantly, how did the markets like these numbers?
| | | | | |
| --- | --- | --- | --- | --- |
| | 2014 Q1 | 2013 Q4 | 2013 Q3 | 2013 Q2 |
| Earnings Growth (Y-O-Y) | 20.00% | 17.46% | -120.93% | -14.00% |
| Revenue Growth (Y-O-Y) | -0.98% | -0.74% | -2.77% | -8.23% |
| Earnings Reaction | 6.77%* | -1.32% | 9.05% | -12.45% |
Hewlett-Packard has seen increasing earnings and decreasing revenue figures over the last four quarters. From these numbers, the markets have been pleased with Hewlett-Packard's recent earnings announcements.
* As of this writing
P = Excellent Relative Performance Versus Peers and Sector
How has Hewlett-Packard stock done relative to its peers, Microsoft (NASDAQ:MSFT), IBM (NASDAQ:IBM), Apple (NASDAQ:AAPL), and sector?
| | | | | | |
| --- | --- | --- | --- | --- | --- |
| | Hewlett-Packard | Microsoft | IBM | Apple | Sector |
| Year-to-Date Return | 21.25% | 7.02% | -1.05% | 8.62% | 9.96% |
Hewlett-Packard has been a relative performance leader, year-to-date.
Conclusion
Hewlett-Packard is a software and technology bellwether that provides essential products and services to consumers and companies worldwide. The company plans to eliminate as many as 16,000 jobs in order to make it more efficient and effective. The stock has been moving higher in recent months and is currently trading near highs for the year. Over the last four quarters, earnings have been increasing while revenues have been decreasing, which has left investors pleased. Relative to its peers and sector, Hewlett-Packard has been a year-to-date performance leader. Look for Hewlett-Packard to continue OUTPERFORM.
Using a solid investing framework such as this can help improve your stock-picking skills. Don't waste another minute — click here and get our CHEAT SHEET stock picks now.
More From Wall St. Cheat Sheet: