Is It a Happy Holiday for American Retailers?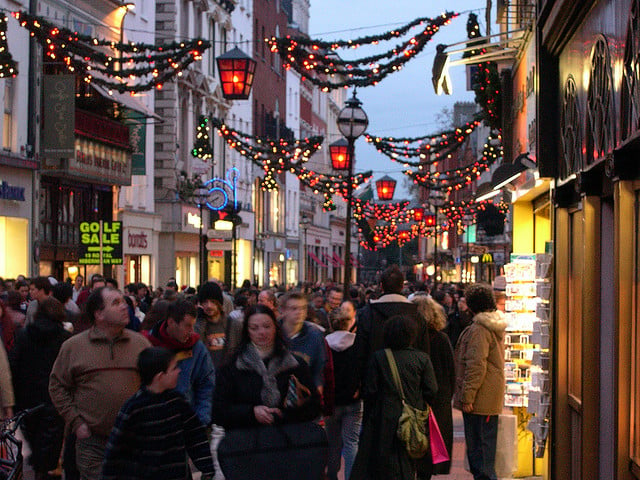 When the Department of Commerce released its monthly retail sales report earlier this month, economists were handed proof of a stronger U.S. economy. In November, Americans increased spending on a number of different goods from automobiles to electronics, pushing retail sales up 0.7 percent. That increase surpassed October's upwardly revised 0.6 percent rise, the largest in five months, and surpassed analyst expectations for another 0.6 percent increase.
"There are signs of an earlier pickup in consumption that is also likely to be the heart and soul of a future growth acceleration," Alan Ruskin, head of currency strategy at Deutsche Bank Securities, told The New York Times after November's numbers were released. And "it is difficult to get any sort of meaningful [economic] pickup without the consumer being a part of it," as Nationwide Insurance chief economist David Berson told The Wall Street Journal.
Increasing consumer spending — which accounts for nearly 70 percent of U.S. gross domestic product, higher rates of job creation, and a improving manufacturing sector — has provided evidence that the economic recovery could accelerate in 2014. Nevertheless, retail sales appear to have lost momentum as the holiday shopping season has progressed.
However, it is important to remember that November's gains were derived primarily from sales of automobiles, which are big-ticket items, and from deeply discounted electronics, meaning some of the items that drove the month's gains may not be the products that drive holiday retails sales.
November's relatively strong gain defied the industry's expectations for a slow holiday season. As expected, sales over the Thanksgiving weekend were modest. With the economic recovery still progressing at an anemic pace and the late date of Black Friday forcing retailers to begin offering promotions earlier in the month, the annual kickoff to the holiday shopping season was weaker than expected.
Over the course of the Black Friday weekend, consumers spent approximately $1.7 billion less on holiday shopping than they did last year, according to the National Retail Federation, even though 141 million people — 1 million more than in 2012 — shopped between that Thursday and Sunday. The average amount spent per person decreased as well, dropping to $407.02 from last year's $423.55.
Despite the encouraging November retail sales report, other data have confirmed what economists feared after the Thanksgiving shopping figures were released. Early readings suggest that retail sales in December — the capstone month of the holiday shopping season — took a hit. According to Chicago-based researcher ShopperTrak, sales at retail stores have fallen for three consecutive weeks, which compares to the 3.4 percent gain the firm recorded for the entire month of November.
For the week ended December 22, sales declined 3.1 percent to $42.7 billion after dropping 2.9 percent and 0.8 percent during the first and second weeks of the month, respectively. Those drops left retailers under pressure, with the need to draw in tight-fisted shoppers during the final days of what is supposed to be the busiest shopping period of the month. Typically, 40 percent of retailers' annual sales are made during the months of November and December.
While the figures released by industry trade groups like the International Council of Shopping Centers and Johnson Redbook tell a slightly more optimistic story, they too suggest that growth in December has been moderate at best. Despite the fact that the index prepared by ICSC in conjunction with Goldman Sachs showed that shopping picked up sharply in the week ended December 22, the trends in the report are flat when compared to November.
Similarly, the Redbook index showed that shopping surged in the past week, and while it recorded the best year-over-year growth rate of the month, that number was still no better than flat when compared with November.
Pulling back slightly from last week's 4.8 percent week-over-week increase, the ICSC-Goldman Sachs index showed that same-store sales rose 1.4 percent in the week ended December 22. On a year-over-year basis, the index's growth continued to expand, posting a 2.7 percent gain compared to the previous week's 2 percent increase.
"Consumers reported in the ICSC-GS consumer tracking survey that the average holiday-gift completion rate rose to 83.5 percent though Sunday — close to last year's 84 percent at a comparable time, which is good news for retailers and the industry," ICSC chief economist Michael Niemira said in a statement. "With only a day remaining to wrap up their Christmas shopping, it is no surprise that 31 percent of consumers plan to shop on Christmas Eve." ICSC research estimates that December's same-store sales will reflect an increase of 3 percent to 4 percent for the month of December.
While the ICSC-Goldman Sachs index has been slightly volatile in December, the Johnson Redbook index has been slowly gaining momentum. The index expanded 3.9 percent over the past 12 months, which compares with the previous week's 2.9 percent rate of growth. Furthermore, Redbook's monthly comparison also improved, contracting at a 1 percent rate following the previous week's 1.4 percent rate of contraction.
More from Wall St. Cheat Sheet:
Follow Meghan on Twitter @MFoley_WSCS