Is J.C. Penney Getting a $1.75 Billion Band-Aid?
The week for J.C. Penney (NYSE:JCP) went from status-quo depressing on Monday to encouraging by the close of Friday trading. Following the revelation that George Soros was a major investor,  rumors of a giant loan orchestrated by Goldman Sachs (NYSE:GS) hit Wall Street by week's end, sending the stock on a charge to a two-month high.
Sources told Reuters that $1.75 billion in financing could be on the way for the retailer, which will be obliged to put up stores and other assets as collateral. After the disastrous run of ex-CEO Ron Johnson, the money is likely to end up in the damage-control department, revamping stores and preparing for a return to the time-honored Penney traditions of couponing and sales. This marks a shift back from Johnson's notoriously failed strategy of the previous period.
The company must work hard to regain its composure following a loss of nearly 25 percent in sales under Johnson's reign. This financing package will allow Penney to pay off a recent loan start moving ahead. Stock prices jumped 11 percent on Friday after news of the deal–coupled with word of the Soros stake–spread to investors interested in a buy. Yet J.C. Penney's may only have a small window of opportunity…
Durban Capital's David Berman told Reuter he expects the money to "buy them time and get them through Christmas," adding that it will be Penney's goal to "try to win customers back slowly." After such a disastrous run in recent years, it may be one of the retail giant's last chances to fight its way back to relevance.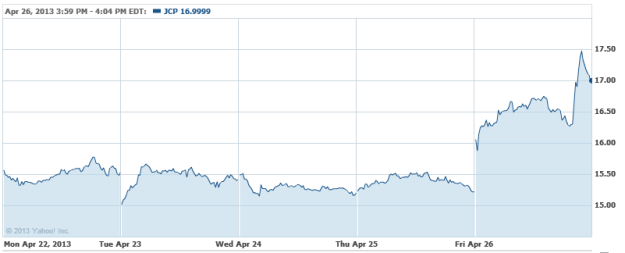 The news of Soros holding a 7.9 percent stake in the company had already buoyed the confidence of investors on Thursday, sending shares up over 7 percent. Word that there was financing on the way suggested the company has its priorities in check and could find a way through this dangerous period. By most accounts, it would take a highly successful holiday season to bring back Penney from the brink. In other words, the next six months could decide whether J.C. Penney remains a household name or fades as another once-was in the history books.
Don't Miss: Are Consumers Growing More Pessimistic About the Future?