Is Kathleen Sebelius Soliciting For More Obamacare Funding?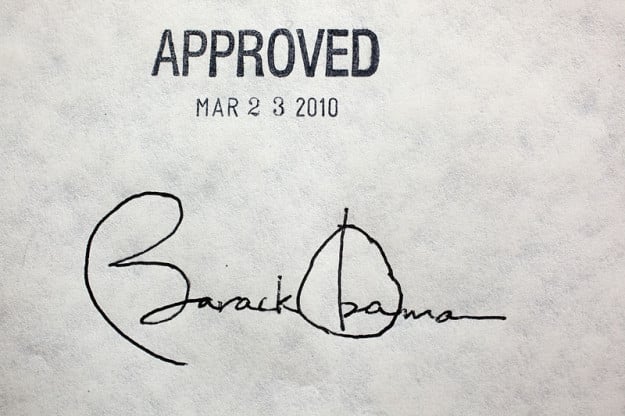 Congress has repeatedly denied requests from the Department of Health and Human Services to increase funding for the Affordable Care Act, even though the agency has said that without additional resources, it will not be able to run a full-fledged campaign explaining the law to the public and promoting enrollment. It is a well-known fact that confusion abounds over what Obamacare means for the American healthcare system. Not only are congressional Republicans and Democrats arguing over whether the implementation of the reforms' key provisions will help or hurt the American people, but many people — especially those who most benefit from Obamacare's mandates — do not understand what the pages and pages of new regulations mean for them individually.
Government officials are currently setting up the key provision of the reform — the superstore-like health insurance exchanges, which will begin open enrollment in the fall. But four in every ten Americans, roughly 42 percent, are unaware that the Affordable Care Act is still law, according to a poll conducted by the Kaiser Family Foundation at the beginning of the month.
Still, when Kathleen Sebelius, the secretary of the Department of Health and Human Services, disclosed Tuesday that she had made telephone calls to three companies regulated by her department, asking them to help a nonprofit group promote Obamacare, her actions were met with some raised eyebrows. Republicans in Congress questioned both the legality and propriety of her fund-raising efforts in a Tuesday hearing.
Speaking before the House Committee on Education and the Workforce, Sebelius said she contacted Johnson & Johnson (NYSE:JNJ), a pharmaceutical manufacturer; Ascension Health, a Roman Catholic healthcare system; and, Kaiser Permanente, the health insurance provider. She maintained throughout the hearing, according to The New York Times, that she did not explicitly ask the organization for money, but, rather, urged them to support the work of a nonprofit group, Enroll America. In total, she made five telephone calls soliciting support of the organization.
Enroll America, which is led by former Obama administration officials, has joined forces with the White House to publicize the healthcare reform that was signed into law by President Obama in March of 2010 and help uninsured Americans sign up for coverage. "We believe the 'enrollment gap' can be addressed by creating a seamless consumer-friendly enrollment process, and by making a coordinated, concerted, and wide-reaching effort to ensure that Americans know how and where to sign up for coverage," states the organization's mission statement. Sebelius described Enroll America as "a private, not-for-profit, nonpartisan organization."
When questioned regarding her actions, Sebelius said that she was following well-established precedents. In support, she cited the "public-private partnerships" established by the Clinton administration to encourage enrollment in the Children's Health Insurance Program, and the efforts of the administration of President George W. Bush to work with pharmaceutical companies and insurers to help Medicare beneficiaries sign up for prescription drug coverage.
Sebelius also stated that no federal law prevented her from raising money from companies regulated by her department, although she did say that she voluntarily decided not to make fund-raising appeals to such companies.
However, administration officials have said the Sebelius had solicited donations from the Robert Wood Johnson Foundation, a philanthropic organization committed to improving public health, and the tax preparation service H&R Block (NYSE:HRB), which will a play role helping low- and middle-income people apply for tax credits that can be used to buy private health insurance under the law. As the Times reported, she confirmed that statement Tuesday.
To defend her actions, Sebelius referred to a section of the Public Health Service Act that reads: "The secretary is authorized to support by grant or contract (and to encourage others to support) private nonprofit entities working in health information and health promotion, preventive health services, and education in the appropriate use of health care."
Follow Meghan on Twitter @MFoley_WSCS
Don't Miss: Is This Warren Buffett-Owned Railway Polluting Water?