Is Legal Marijuana a Cash Cow?
It has been almost a year now since Colorado's Amendment 64 went into action, "providing [among other things] for the licensing of cultivation facilities, product manufacturing facilities, testing facilities, and retail stores; permitting local governments to regulate or prohibit such facilities; requiring the general assembly to enact an excise tax to be levied upon wholesale sales of marijuana," which is a dream come true for marijuana users. The realization of recreational legalization occurring within our boarders changed the way many people view the substance.
The majority of the country shows a degree of support for legalization. This time last year, a Gallup poll found that 58% of the country supported legalization, which is a higher percentage than ever before. While some skeptics initially thought this change would result in complete mayhem, the numbers don't lie. Overall, the Centennial State doesn't appear to have undergone the negative change that some feared it would.
The fears of more and more teens using the substance and increased highway crashes do not seem to be turning into reality, according to data published in Forbes. "In the 2013 Healthy Kids Colorado survey, 37% of high school students reported that they had ever tried marijuana, down from 39% in 2011 … Traffic fatalities also have generally declined since Colorado began loosening its marijuana laws. Fatalities rose in 2001, the year that Colorado's medical marijuana law took effect, but by 2003 had fallen below the 2000 level. Since peaking in 2002, fatalities have fallen by more than a third," Forbes reports.
Is it possible that legalization is not the worst idea?
On the other side of the coin, there have also been increased reports of children visiting the ER after accidentally ingesting edible marijuana goods. For those who smoke the substance, there are of course associated health risks to the lungs, simply because they are smoking something.
But, at the end of the day, one could say there are health risks associated with most things in life, and that it is up to parents to keep their children safe from whatever dangers or risks may be lurking. Do the benefits outweigh the costs? Well, that's up to society as a whole to decide.
We do know that this substance is bringing in millions of dollars in tax revenues for both Colorado and Washington. From January to August, Colorado's marijuana revenues have increased dramatically, and recreational revenues have actually surpassed medical revenues.
In the month of August alone, the progressive state brought in around $7.5 million — a large portion of which (over $3.3 million) came from sales taxes on recreational marijuana. To date, Colorado has collected around $45 million from marijuana revenues.
In July, the Denver Business Journal published predictions from Colorado Officials, which projected the state would collect between $60 and $70 million by the end of the Fiscal Year (June 2015). Colorado may very well meet or exceed this projected amount. Check out marijuana's journey in the timeline below (you can click on it to enlarge it).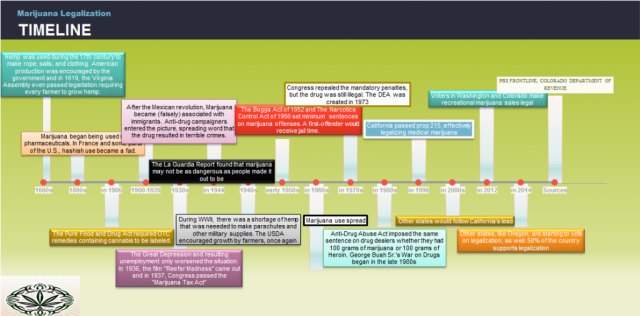 More from Personal Finance Cheat Sheet: