Is Manufacturing a Dark Spot for the Labor Market?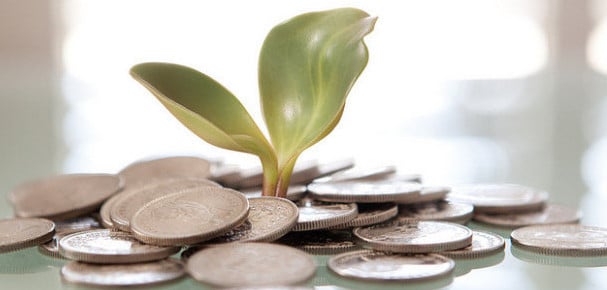 Economists and market participants often use regional outlook reports produced by local Federal Reserve branches to inform their perception of national economic conditions. When the data align, observers can more confidently form expectations about future conditions — in manufacturing, for example, national indicators suggest (at best) modest growth, and several regional indicators confirm this outlook.
On Thursday, the Federal Reserve Bank of Philadelphia released the June update to its Business Outlook Survey. The survey's broadest measure of manufacturing conditions, the diffusion index of current activity, increased from -5.2 in May to 12.5 in June, its highest reading since April 2011. The percentage of firms reporting increased activity rose from 22 to 34 on the month, with several other indicators rising from negative to positive territory.
Overall demand for manufactured goods, as measured by the region's current new orders index, increased dramatically from -7.9 to 16.6. The shipments index climbed a full 13 points to 4.1 in June.
However, labor market conditions continued to show weakness. The employment index rose three points but remained in negative territory at -5.4, its third consecutive month below zero, which indicates contraction. There were more firms reporting employment decreases (20 percent) than increases (15 percent).
Largely agreeing with the Philadelphia outlook, conditions for New York manufacturers improved modestly in June, as measured by the latest Empire State Manufacturing Survey. General business conditions — the survey's most comprehensive measure of economic sentiment and business outlook — climbed 9 points to 7.8, indicating growth after falling into negative territory in May. The jump is a surprise beat against expectations for an increase to just 0.50.
However, it's important to point out that the strong increase in the general business conditions index masks weakness in other key components. The indexes for new orders, shipments, and unfilled orders all declined, either falling deeper into or entering negative territory. Labor market conditions, measured by the index for number of employees and the index for the average workweek, continued to worsen as well.
In the most recent unemployment claims report, released by the U.S. Bureau of Labor Statistics, six states reported significant layoffs in manufacturing: Georgia, Florida, Virginia, New Jersey, and South Carolina. Overall unemployment within the manufacturing sector increased from 6.4 percent in April to 6.8 percent in May, below the national average.
However, in part thanks to the dramatic post-crisis spike in manufacturing unemployment (red line), the sector's labor force participation has fallen significantly. This has put a downward pressure on the total unemployment rate, because there are simply less people looking for manufacturing positions.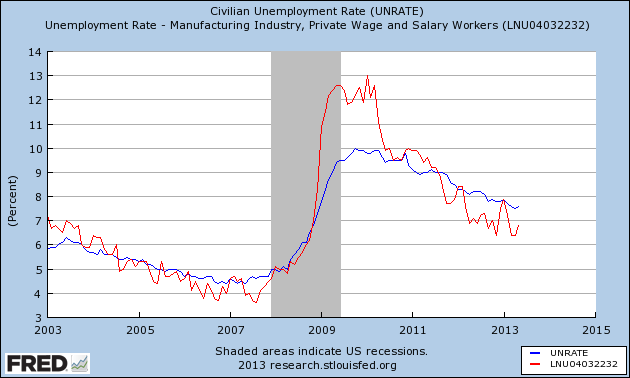 Don't Miss: Did Bank of America Purposely Delay Applications for Mortgage Aid?