Is Marijuana a Young Person's Drug?
With marijuana actually being legal in some parts of the country for recreational use now, many of us are wondering: Who will be buying it and using it?
Will it remain within its small community of medical and recreational users? Or, will its use spread like wildfire?
One of the major fears associated with marijuana legalization is the possibility of increased use among adolescents and teens. And, although those states that are legalizing the substances are setting a minimum purchasing age of 21 years old, such age restrictions have not completely stopped children and teens from obtaining other substances with imposed age restrictions, like alcohol and cigarettes.
While of course, no one can predict the future, we can use the information we have available now to help gain an understanding of marijuana and its culture.
The age of marijuana users
Data shows that the marijuana culture is young, and users are often in their 20s or maybe even younger. A Gallup poll found that those in the 18-to-29 age group have the highest approval rating of marijuana — at 67% — and as age increases, approval for the substance decreases.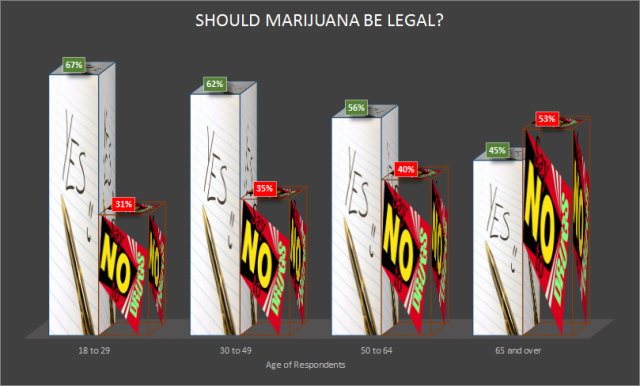 Gallup data also found that use is higher in the younger age groups, with 14% of 18- to 29-year-olds admitting to use. 7% of 30- to 49-year-olds, 5% of 50- to 64-year-olds, and only 1% of those in the 65-and-older age group admitting current use at the time of the survey.
Data from the Substance Abuse and Mental Health Services Administration (SAMHSA) falls in line with the Gallup poll. In nearly every category — first-time use, use in the past 30 days, and use during the past year — marijuana use is the lowest among those ages 26 and over. The 18-to-25 age group has the highest usage percentages in most categories.
It is difficult to say whether or not legalization will change any of this. We do know that marijuana decriminalization in places like the Netherlands did not seem to impact the age of users. According to a 2004 study comparing marijuana use in Amsterdam to use in San Francisco, marijuana users in Amsterdam had a mean starting age of around 17 (around the same as San Francisco users), and 19 was generally the age at which users commenced regular use in both cities. Maximum use generally occurred around two years after — at around age 21 or 22. "Clear majorities in both cities reported periods of maximum use of 3 years or less," reports the public health study.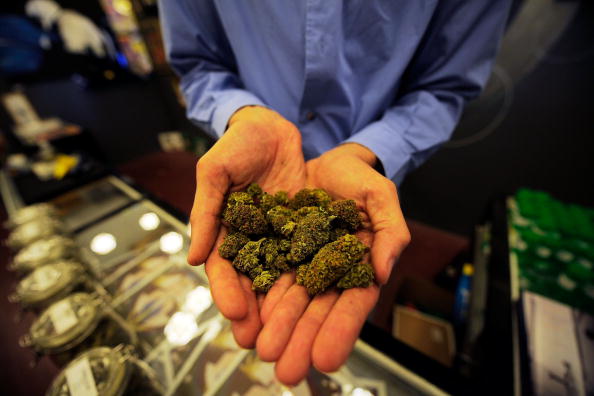 Who else is using marijuana?
According to the Gallup poll from last year, "38% of Americans admit to having tried marijuana, compared with 34% in 1999 and 33% in 1985." 7% of the population admitted they were current users in the Gallup poll — 8% of men and 6% of women admitted to being users.
Surprisingly, marijuana use did have a slightly positive correlation with higher education in the Gallup poll. Only 5% of those with no college education reported being marijuana users, 8% of those with some college education said they used the substance, and 7% of college grads said they used marijuana at the time of the survey. The survey also found use to be higher among liberals, cigarette smokers, and those with incomes of less than $30,000.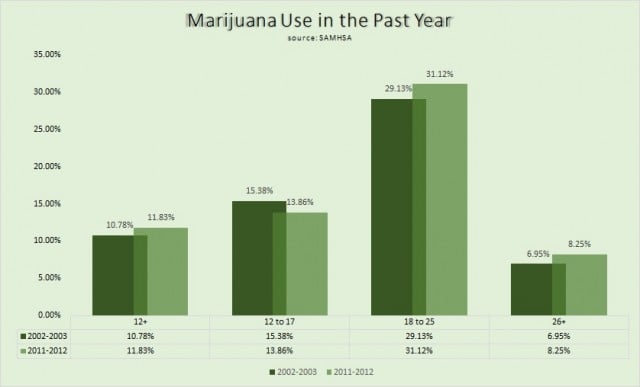 The bottom line
Data does seem to indicate that the majority of the members of the marijuana culture are young people, and it appears to be something people eventually discontinue as they age. If we compare use statistics from 2002-2003 to 2011-2012, a large portion of the 18-to-25 age group who used during the 2002-2003 period appeared to discontinue use eight or nine years later. The 26-and-over use-rates would be higher during 2011-2012 if more 18- to 25-year-olds had continued their use.
Pointing out this specific demographic group is relevant in the legalization debate. Perhaps certain income and tax data should be more narrowed in on the actual marijuana-using culture, and be less representative of the nation as a whole.
More From Personal Finance Cheat Sheet: