Is Money About to Get Cheaper in Europe?
Major European markets rallied on Wednesday, adding another day to a winning streak that began a week ago. Corporate earnings have been in focus, and generally positive results have encouraged Mr. Market. Equities have climbed for four straight days.
But it's not all sunshine and happiness in the EU, despite what the markets are doing. Markit released the flash reading of the Eurozone PMI Composite Output Index, and all is not well. The flash reading came in at 46.5, which is flat with last month. This indicates that the Eurozone is stuck in contraction, and worse, could remain in negative growth territory for the second quarter.
"Although the PMI was unchanged in April," commented Markit Chief Economist Chris Williamson, "the survey is signalling a worrying weakness in the economy at the start of the second quarter, with signs that the downturn is more likely to intensify further in coming months rather than ease."
And this isn't the only recently-released economic indicator that suggests the EU isn't bailing water fast enough…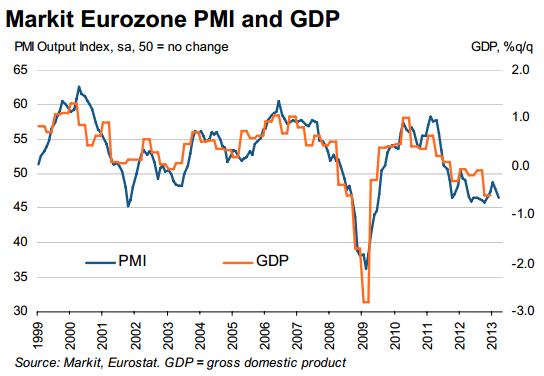 Germany it he region's largest economy and in many ways a keystone of the recovery, and its Composite Output Index fell to a six-month low of 48.8 in April. Williamson commented, "Weaker demand was attributed to subdued business confidence across the euro area, with clients cutting spending amid concerns about the economic outlook for southern Europe."
In short: things are still bad, and look like they could get worse. A return to growth in the second-half of 2013 seems less likely at the current trajectory. Another concern is the unemployment rate,  which edged up from 10.8 percent to 10.9 percent in the EU27 in February, and stayed flat at 12.0 percent in the EA17.
What this spells out is one reason why equities are rallying: given weak economic indicators, the European Central Bank could lower its benchmark interest rate at its meeting next Thursday. The ECB's benchmark rate currently sits at 0.75 percent, slightly higher than the near-zero rate maintained by other central banks navigating loose monetary policy.
Speculation to this effect was spurred by a report earlier in the month showed that annual inflation in the EU27 edged down from 2.0 to 1.9 percent in March, while annual inflation in the EA17 edged down from 1.8 percent to 1.7 percent.
Don't Miss: This Report Is Bad for U.S. Manufacturing.