Is Mr. Market Ready for Another Debt Ceiling Debate?
It's been a rough couple of months for Mr. Market. Equities — as measured by the S&P 500 — have climbed nearly 18 percent this year to date, but the growth was twice punctuated by taper tantrums, once in June and again in August. Interest rates, as measured by the yield on the 10-year Treasury note, have increased dramatically, climbing a full percentage point between May and September before settling down some in the wake of Wednesday's monetary policy announcement.
That announcement, which came on the heels of a Federal Open Market Committee meeting, revealed that — contrary to expectations — the U.S. Federal Reserve would continue purchasing $40 billion worth of agency mortgage-backed securities and $45 billion worth of longer-term securities per month. To put it another way, the specter of the taper lives on to haunt Mr. Market until at least October 30, when the next FOMC meeting concludes — and, still, everywhere else the market turns, it faces uncertainty.
This is particularly true when it comes to the fiscal situation in the United States. Uncle Sam bumped his head against the $16.7 trillion debt ceiling back in May, and since then, the U.S. Treasury has been engaged in extraordinary financing measures. Come September 30, the government's spending authority will expire, and by mid-October the Treasury will lose its capacity to continue borrowing.
America's budget deficit increased from $97.6 billion in July to $147.9 billion in August, according to Treasury figures, about 22 percent lower than August of last year. Total receipts increased 3.6 percent on the year to $185 billion, while total outlays declined 9.8 percent to $333 billion.This year to date, total receipts of $2.472 trillion are about 13 percent higher than the same period in 2012.
Meanwhile, total YTD outlays have declined about 3.7 percent to $3.227 trillion. The YTD deficit is $755 billion, 35 percent below its level this time last year. The U.S. is on track to log a deficit of less than $1 trillion, a milestone set by many policymakers during the fiscal cliff negotiations, and a welcome windfall from the sequestration. Keep in mind that the government's fiscal year ends in September.
Individual income taxes collected are up 15.8 percent YTD while corporation income taxes collected are up 16.1 percent. Social insurance and retirement receipts are up about 17.8 percent YTD.
At a glance, it's easy to see that the U.S. budget deficit this year is much tamer than last. A combination of tax increases and spending cuts — however awkward each has been — has helped steer the U.S. in the direction of fiscal responsibility.
But despite the looming debt ceiling debates — President Obama has already vowed not to negotiate on the issue — Americans have been increasingly focused on other topics. Earlier in September, Gallup released the results of a survey that showed the percentage of Americans mentioning economic issues as the most important problem facing the country declined to 48 percent.
Just 5 percent of Americans think the federal budget deficit or the total federal debt is the most important problem facing the U.S., down from 7 percent in July. This puts the issue of the debt just behind Syria, with 8 percent of Americans responding that the developing situation is the nation's top priority.
The "economy in general" and "unemployment/jobs" still remain the top concerns for Americans, but the overall percentage of people citing economic issues as the most important problem in the country has been on the decline since late 2012, according to Gallup.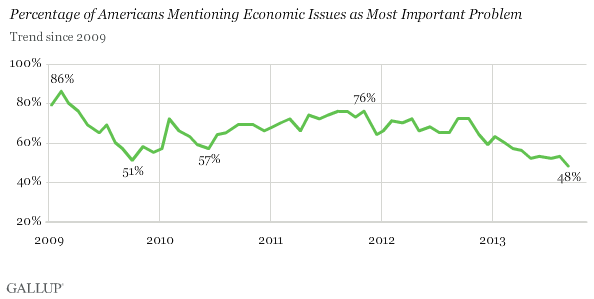 Speaking at the Business Leaders Forum, Obama said that "if we're going to be honest about our debt and our deficits, our real problem is the long term, not the short term. We're not overspending on education. We're not overspending on research and development. We're not overspending on helping the disabled. Those things have all been flat for a long time or are coming down. Our challenge has to do with our long-term entitlement programs and mostly have to do with our health care costs."
Many members of the GOP challenge the inherent assumption that government spending should be increased in order to address these issues before the budget is balanced. As noted, the deficit has been falling, but the timetable for sustainability is by no means clear.
Don't Miss: What Is Preventing Americans From Saving for Retirement?