Is Newmont Mining a Refuge for Investors?
Newmont Mining (NYSE:NEM) is one of the largest gold (NYSE:GLD) producers in the world.  It is the only gold producer included in the S&P 500 (NYSE:SPY) and Fortune 500.  It has also been a refuge to precious metal (NYSE:DBP) investors over the past few weeks.  Shares recently hit an all-time high of $71.25 on September 20th.  Now, investors have an opportunity to purchase this major gold miner at a cheaper price.
Investing Insights: Are Gold and Silver at Bargain Prices Again?
As the chart below shows, while the Market Vectors Gold Miners ETF (NYSE:GDX) and the Junior Gold Miners ETF (NYSE:GDXJ) declined heavily in September, Newmont was less volatile and found support at its 50-day MA, while the miner ETFs fell below their 50-day and 200-day moving averages.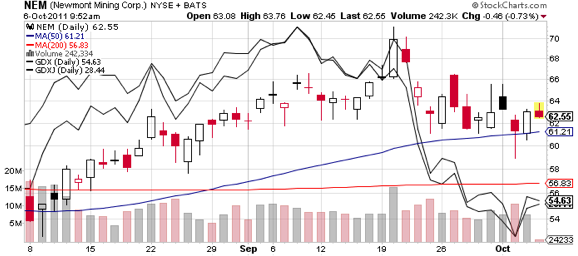 Earlier this year, Newmont made a popular move with shareholders by linking its dividend to the price of gold.  Each quarterly dividend will be determined as a function of Newmont's average realized gold sales price for the preceding quarter. The Company's quarterly dividend will increase at a rate of $0.05 per share for each $100 per ounce rise in the average realized gold sales price for the preceding quarter.  Other gold producers that also pay a dividend include Barrick Gold (NYSE:ABX) and Yamana Gold (NYSE:AUY).
We brought Newmont Mining (NYSE:NEM) to the attention of our premium subscribers because of the company's strong fundamentals and dividend potential.  The gold-linked dividend offers investors some comfort as short-term gold prices tend to be volatile.  Furthermore, the company continues to maintain a gross margin well over 50%, giving the company a nice cushion to absorb any costs increases.  If you would like to receive more professional analysis on Newmont Mining and other precious metal investments, we invite you to try our premium service free for 14 days.