Is Obamacare Already Hitting Small Businesses?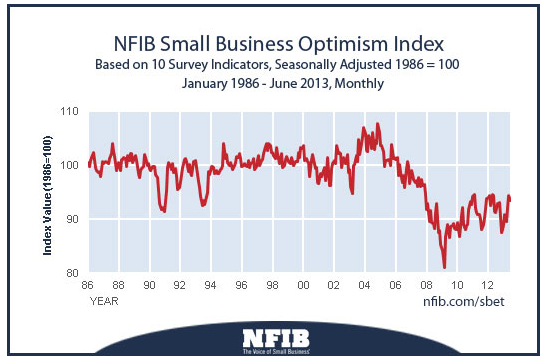 After two months of incremental gains, optimism among small business owners declined last month. Small firms across the nation cite taxes and government red tape as their top problems, with Obamacare leading the way.
The National Federation of Independent Business, the leading nonprofit small business association representing small and independent businesses, reported that its Small Business Optimism Index fell nearly one point in June to reach 93.5, compared to 94.4 the previous month. June's reading is 12 points higher than the lowest point seen during the recession but seven points below the pre-2008 average.
In December, the index sank to 88.0, the second-worst reading since March 2010. In the 46 months of economic expansion since the beginning of the recovery in July 2009, the index has averaged slightly above 90.0.
Although optimism among small business owners remains above the average, government policies are still seen as a major hurdle. Corporate profits are surging, but consumers and small businesses still face too much doubt about the future and are receiving little help from lawmakers.
"There is no reason for small employers to be more optimistic and lots of things to worry about," NFIB chief economist Bill Dunkelberg said. "Washington remains bogged down in scandals and confidence in government's ability to deal with our fundamental problems remains low. Economic growth was revised down for the first quarter of the year and the outlook for the second quarter is not looking good. Nothing cheers up a small-business owner more than a customer, and they remain scarce and cautious while consumer spending remains weak and more owners are reporting negative sales trends than positive ones. It certainly doesn't help that the endless stream of delays and capitulations of certain provisions of the health care law adds to the uncertainty felt by owners."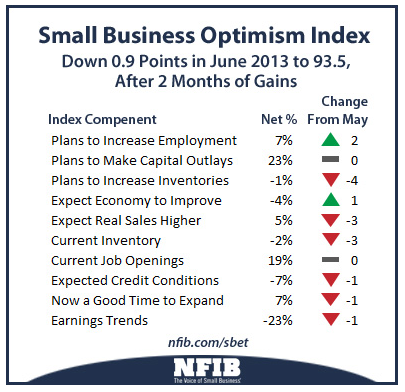 Of the 10 index components, six declined and two were unchanged. Plans to increase employment and the number of businesses expecting the economy to improve were the only components to climb higher.
Only 7 percent of owners said it was a good time to expand their businesses in June, down 1 percent from the previous month. The net percent of owners expecting better business conditions in six months was a net -4 percent.
Sales remained in negative territory for small businesses. The net percent of all owners reporting higher nominal sales over the past three months came in at -4 percent. Eighteen percent of small employers cite weak sales as their top business problem. Taxes and government red tape were the top two problems, at 20 percent each.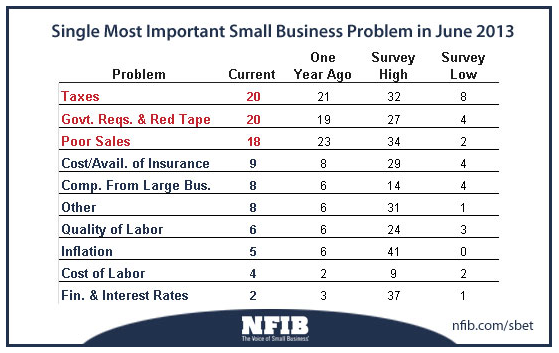 Job creation plans improved slightly but remain weak. Small businesses reported increasing employment at an average of -0.9 workers per firm last month. Overall, growth among small businesses is merely keeping up with population gains.
Dunkelberg said: "In the meantime, uncertainty reigns supreme, who knows what labor will cost or when or what firm size will have to comply with which rules — Health and Human Services is still writing them. The President's delay for compliance among those with 50 employees or more is a political move, fearing the bad press that might occur prior to elections from the chaos produced by mandatory compliance. It is clear that the government is not prepared to implement this. Really, a group of people, most with little or no private sector experience, decided to restructure 15 percent of the gross domestic product."
Follow Eric on Twitter (@Mr_Eric_WSCS)
Don't Miss: Are Retail Sales Headed for a July Growth Spurt?