Is Obamacare Forcing More Part-Time Jobs? Depends Who You Ask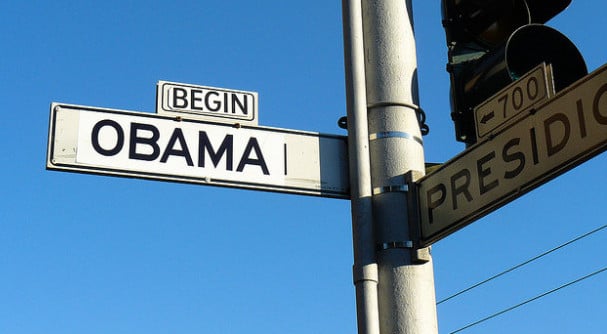 The type of jobs being created by the United States economy is the most concerning part of the labor market recovery.
As the Department of Labor's July Employment Situation Report showed, much of the month's hiring was concentrated in part-time or contract employment in low-wage industries. Retailers led job gains with 47,000 and restaurants and bars added 38,000. Together, four low-pay sectors — retail, restaurants, temporary staffing firms, and home health care — accounted for 60 percent of the jobs added in July. So far this year, those sectors have made up 45 percent of the country's 1.3 million payroll additions. Since March, the number of part time workers has swelled by 791,000 while the number of full-time workers has risen 187,000. Making that disparity even more glaring is the fact that there are 116.1 million full-time workers in the United States and just 28.2 million part-time workers.
With this concern in place, Republican opponents of the Affordable Care Act have argued that the health care reform championed by President Barack Obama is causing even more employers to cut workers' hours, shifting full-time workers to part-time so as to avoid having to provide insurance. Obamacare requires any company with 50 or more full-time employees to sponsor health insurance for those employees. In this case, full-time employment is defined as 30 or more hours per week.
Christopher J. Conover, a researcher at the right-leaning American Enterprise Institute made that very argument in a piece entitled "Who can deny it? Obamacare is accelerating U.S. towards a part-time nation," which was originally published in Forbes on July 31.
"Admittedly, it takes a little detective work, but if we systematically review the available empirical evidence in an even-handed fashion, the conclusion seems inescapable: Obamacare is accelerating a disturbing trend towards a nation of part-timers." he wrote. "This is not good news for America."
It is not uncommon for the number of part-time workers to surge during a recession, nor is it uncommon for the numbers to abate post-recession. However, Conover's research found that in the first six months of 2013, 4.3 part-time jobs were created for every full-time job. This is a historically elevated level; the United States economy typically creates three full time jobs for every part-time job. But if this trend continues and the number of part-time workers soars above 9 million — barring no recession — it would be "historically anomalous."
"Should that happen, it would be hard to avoid the conclusion that Obamacare's employer mandate had something to do with this reversal," he concluded.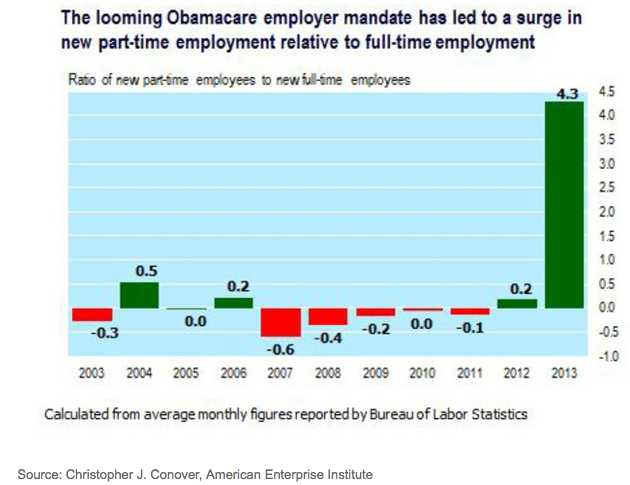 Furthermore, he dismissed the research of the Center for Economic and Policy Research, which showed that the number of workers whose hours have been cut is negligible from a statistical standpoint. The CEPR compared the numbers and percent of workers who reported working 26 to 29 hours a week in the first four months of 2013 with those that worked the same number of hours in the first four months of 2012. The researchers reasoned that if Obamacare was pushing more workers into part-time employment, it would be apparent in the surge in the number of workers in that work-hour category. But, they found that the number of workers in that category was lower in 2013 than 2012, and as a percentage of the total workforce, the 2013 figure was also slightly lower.
In response, Conover pointed to the number of chief executive officers that are on record as attributing their decision to cut workers hours to the added costs of complying with the Obamacare mandate.
Bloomberg's Evan Soltas argued that Conover's analysis is flawed. "There's no substantial evidence yet that employers are switching from full-time to part-time in response to health-care law," he wrote. "I do think that will happen sometime — the cutoff is indeed a strong incentive for employers to reduce work hours — but Conover … [is] misleading [his] readers."
There were two problems, according to Soltas. First, Conover's method of comparison is susceptible to creating extreme values; he took the number of new part-time jobs created over a six-month period, and divided by the number of full-time jobs created in the same time period. With this method, if the number of new full-time jobs is close to zero, it does not matter how many part-time jobs are created — the resulting ratio will still be very large. The second problem is that Conover's data — taken from the Bureau of Labor Statistics' household survey — is too volatile to draw accurate conclusions from small samples.
Soltas found that the survey data Conover used showed slow full-time job growth since January; only 130,000 full-time positions were created compared to the 557,000 part-time ones.
Conover acknowledged the problem of volatility, which is why he used yearly data for 2012 and a six-month sample for 2013. "But it is nowhere near enough to save his methodology," wrote Soltas. Furthermore, his data comes from a monthly survey of just 60,000 households, a number small enough that no change in employment less than 436,000 people is statistically significant. "Combined with his method, the volatility produces extreme yet insignificant results," Soltas added.
Looking at a graph of the number of full-time and part-time jobs, there is no evidence of the 2013 surge Conover described. Soltas wrote that it is supposed to be the "last upward wiggle" in the blue line: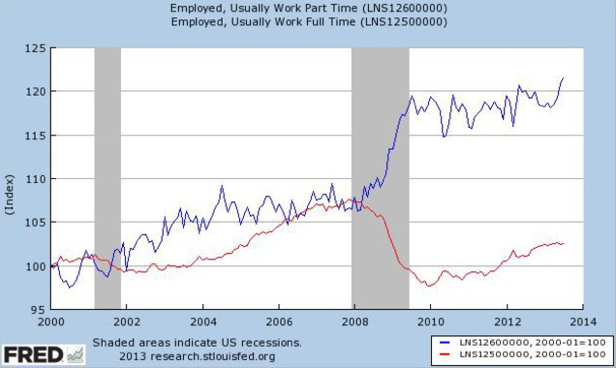 Follow Meghan on Twitter @MFoley_WSCS