Is Obamacare Insurance Actually More Affordable?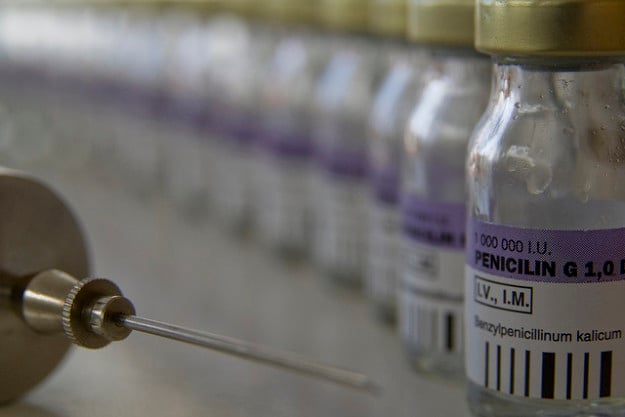 When Covered California released its premium estimates earlier this year, The New York Times' Paul Krugman wrote that the "real Obamacare shock will be one of unexpected success." His reasoning for that claim was that other than a handful of people who may find themselves paying more for health insurance, the prices for coverage on the insurance exchange were "surprisingly low." For the implementation of the health care reform championed by President Barack Obama, that revelation was important because in California more than one-fifth of the non-elderly population are uninsured.
The question of whether premiums will increase, for whom they will increase, and by how much are questions that dominate the debate over the Affordable Care Act. The premium question itself is subject to much debate because of the complexity of the reform, which stems from the fact that the law was designed to close the gap in the current insurance system that leaves many without coverage because they do not qualify for employer-sponsored coverage or government programs and are shut out of the market because of unaffordable prices.
So far, seventeen states plus the District of Columbia have publicly released comprehensive data on rates or the rate filings submitted by insurers, including eleven states operating their own exchanges and seven defaulting to a federally-facilitated exchange. Many of these states have reported premium increases for those Americans already purchasing their own insurance who will not qualify for a federal subsidy, but those increases have been significantly varied from state to state. California said premiums would increase, on average, by 26.5 percent, while Ohio quoted an increase of about 40 percent and New York reported an approximately 50 percent decrease.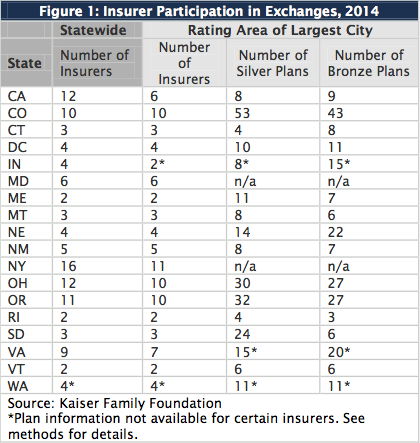 In general, exchange premiums reflect insurers' estimates of the cost of offering the new benefits to customers — the plans offered on the exchanges must meet certain regulatory requirements, surcharges based on health status will be eliminated, premium variations based on age are limited, and a three-year, $10-billion reinsurance pool will be created as a means to insult insurance costs from the shock of offering coverage to those previously uninsured customers or those who were enrolled in high-risk plans.
But, beyond these general changes — how much premiums will increase, in comparison to current rates, depends on many factors. These include the age of the individual, preexisting conditions, income, family size, market competition, and state of residence. It is also important to note that plans will come in four tiers — gold, silver, bronze, and catastrophic — and participating insurers will generally offer a number of plans at various tiers of coverage.
Age plays a role because Obamacare prohibits insurers from charging an adult 64 or older more than three times the premium charged a 21-year-old for the same coverage. Younger adults, who are less risky to insure, will likely see the greatest increases because their premiums are meant to balance out the medical costs of those older and sicker insurance consumers who are more likely to use their benefits. However, they are more likely to qualify for federal subsidies.
Family size and income come into play when calculating federal subsidies that individuals will receive to make insurance more affordable. Those who earn between 100 percent and 400 percent of the federal poverty level, which tops out at $45,960 for an individual and $94,200 for a family of four in 2013, will obtain a tax credit. The amount of the tax credit is based on a benchmark premium, which equals the cost of the second cheapest, or silver, plan in the area where the person lives.
The tax credit equals that benchmark premium minus what the individual is expected to pay based on their family income — an amount calculated on a sliding scale from 2 percent to 9.5 percent of income. The tax credit can also be applied toward the purchase of other levels of coverage such as bronze plans.
Premium increases can vary from state to state not only because each exchange has attracted a different number of insurers, but because states have regulated the insurance market for more than one hundred years and have developed different standards. For example, insurers operating in New York were not allowed to sell so-called bare-bones plans, meaning that to adjust these plans to comply with Obamacare standards, which require insurance to cover a minimum set of benefits like maternity leave and mental health, insurers had fewer changes and fewer costs to add, unlike Ohio.
A September 5 study for the Kaiser Family Foundation authored by Cynthia Cox, Gary Claxton, Larry Levitt and Hana Khosla provides an "Early Look at Premiums and Insurer Participation in Health Insurance Marketplaces" for 2014. The changes mandated by the Affordable Care Act make "direct comparisons of exchange premiums and existing individual market premiums complicated, and doing so would require speculative assumptions and data that are not publicly available." Instead, the study's authors "assessed the differences between how nongroup premiums are calculated before and after" 2014, when coverage begins.
The study found that bronze plans — which have the most cost-sharing and represent the lowest level of coverage generally available through exchanges — typically have the lowest premiums. However, the premiums for bronze plans also vary significantly between the states analyzed.
For example, the lowest cost bronze plan for a 40-year-old ranges from $146 in Baltimore, Maryland and $155 in Albuquerque, New Mexico to $308 in New York, New York and $336 in Burlington,Vermont. Both Vermont and New York, unlike the vast majority of states, do not allow premiums to vary at all by age and had already prohibited insurers from denying coverage based on health status prior to the passage of the Affordable Care Act.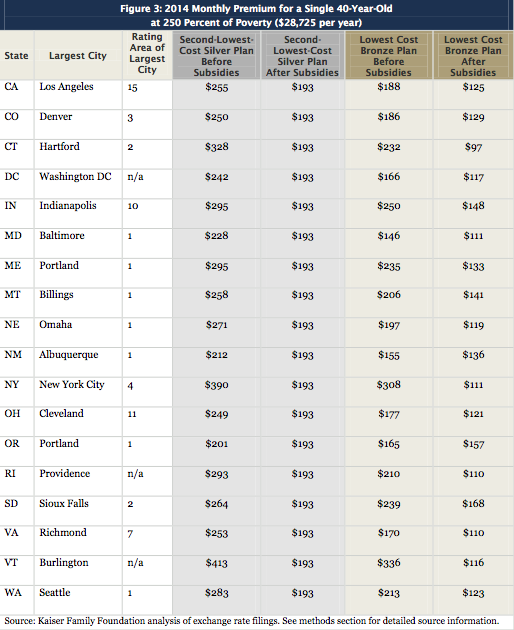 Including tax credits in the calculation, the lowest cost bronze plan premium for a 40-year-old with an income of 250 percent of the poverty level ranges from as little as $97 per month in Hartford, Connecticut to $168 per month in Sioux Falls, South Dakota. "This represents the lowest amount that people would generally be required to pay to meet the so-called 'individual mandate'," noted the study.
"While premiums will vary significantly across the country, they are generally lower than expected," the study concluded. Its authors estimated that, "The latest projections from the Congressional Budget Office imply that the premium for a 40-year-old in the second lowest cost silver plan would average $320 per month nationally. Fifteen of the eighteen rating areas we examined have premiums below this level, suggesting that the cost of coverage for consumers and the federal budgetary cost for tax credits will be lower than anticipated."
Follow Meghan on Twitter @MFoley_WSCS