Is Quantitative Easing's End Near? These Fed Officials Think So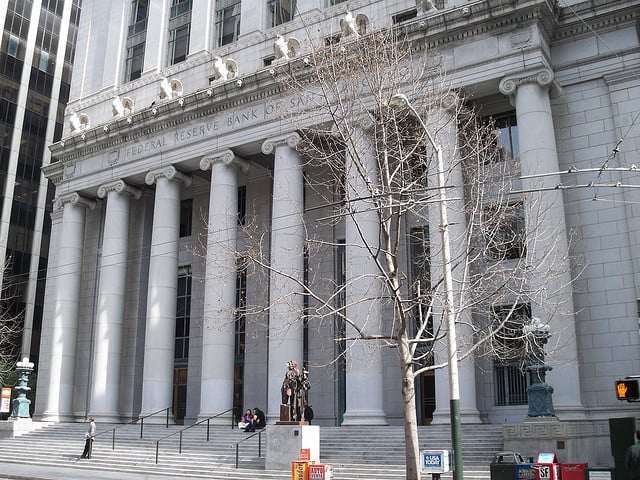 The chorus of Federal Reserve members predicting an end to asset purchasing through quantitative easing has increased, with Federal Reserve Bank of Cleveland President Sandra Pianalto joining the fray, Bloomberg reports.
Speaking to an audience in Cleveland on Wednesday, Pianalto said: "Employment growth has been stronger than I was expecting, and the unemployment rate today is more than half a percent lower than I projected it to be last September. In light of this progress, and if the labor market remains on the stronger path that it has followed since last fall, then I would be prepared to scale back the monthly pace of asset purchases."
Her comments follow earlier remarks by Chicago Fed President Charles Evans, a vocal proponent of monetary stimulus, who similarly predicted an end to asset purchasing this fall.
Evans told reporters that the central bank is "quite likely to reduce the flow purchase rate starting later this year," according to The Wall Street Journal, though he didn't specify which month he thought this might happen. Evans seemed more confident in the Fed's communication than others, and noted that markets are learning to cope with the reality of tapering.
If that is the case, recent market performance would be indicative of a correction for this, though time will tell if markets have braced for when tapering actually begins. Since earnings season is winding down, markets have been turning to other sources of good news to continue their historic run.
However, in the absence of buoying earnings, attention has refocused on central bank policy, according to Reuters, with the result that stocks have fallen a bit.
This kind of central bank worry is present across the pond as well, with markets watching England closely now that new Bank of England head, Mark Carney, has commenced his own forward guidance. U.S. Federal Reserve Chairman Ben Bernanke has been guiding markets on interest rates for some time, telling them not to expect hikes until unemployment falls to 6.5 percent.
Carney has followed suit, instituting a threshold of 7 percent, but with the caveat that he could raise rates if inflation rises, Bloomberg reports. Markets don't seem convinced that he will be able to hold down rates, and speculation on pound sterling futures have followed suit.
As Bernanke prepares to end his reign of the central bank in January, speculation over the next Fed chairman or chairwoman is weighing in on the easing conversation as well. Janet Yellen, the current vice chair, is one of the frontrunners for the job, and is widely thought to have a very dovish view on quantitative easing.
But her main opponent for the job, former Harvard President Larry Summers, is expected to be much more hostile toward the policy and could end it quickly, CNN Money says.
If Evans is right that markets are digesting reality,  then markets shouldn't perform too poorly when the purchases end, though, if his thoughts are wrong, investors could be in for a rough ride as quantitative easing makes its way out.
Don't Miss: A Tale of Two Economies: How the US and EU are Recovering.