Is Reduced Demand for Boeing's 747-8 a Cause for Concern?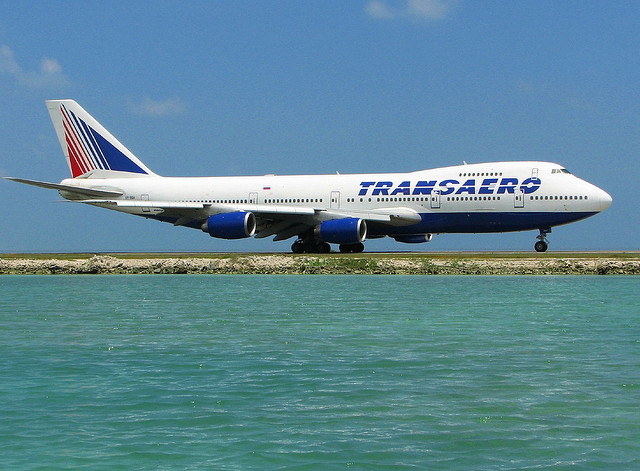 For the second time this year, Boeing Co. (NYSE:BA) is slowing the production rate for its 747-8 jumbo jet — the plane-maker's biggest model — citing dwindling demand for four-engine aircraft.
On Friday, Boeing said in a statement that the company's new rate of production will be 1.5 planes per month, which represents a 14 percent drop from Boeing's cut announced back in April. Boeing expects the pace to be maintained through 2015, but while there have been no sales for the jumbo jet this year, the plane-maker says that it is in "active" discussions with several customers and expects a boost in the 2014 cargo market — a change which could spark interest in the 747-8 freighter, according to Boeing spokesman Doug Alder.
In order to entice customers to purchase the new jets, Bloomberg reports that Boeing has parked some new 747-8s in the desert and is allowing customers to trade in older jets in order to boost sales for its newest variation. While the 747-8 enjoys an iconic status, having revolutionized travel over 40 years ago, airlines have recently shifted towards twin-engine jets that burn less fuel than the more expensive four-engine jets yet are able to fly the same distance.
Further impacting sales of Boeing's 747-8 is the plane-maker's new offering, which is likely to eat into its sales of four-engine jets — the 777X. Expected to be unveiled in November, the dual-engine 777X is set to offer both the range and payload of Boeing's 747-8 jumbo jets.
Peter Arment, a New York-based aerospace analyst with Sterne, Agee & Leach Inc., told clients on Friday, "Long-term the 747-8 platform remains a viable freighter given its favorable economics, but the introduction of the 777X will likely seal the fate of the 747-8 passenger version by the end of this decade."
While that outlook may seem disconcerting, Arment maintains Boeing as a Buy, adding that he doesn't expect 2014 earnings to be impacted by the the slowed rate of production. Arment also expects that Boeing will lower the rate of 747-8 production rate to 1 per month by 2015.  Boeing expects that the demand for large aircraft like the 747-8 will reach 760 planes over the next 20 years — a value of $280 billion.
According to Bloomberg, Boeing has booked 107 orders for the jumbo jet and has delivered 56 of the jets as of the end of September. The most expensive of Boeing's jets, the 747 retails for $357 million, and Randy Tinseth, a Boeing vice president for marketing, said in an October interview, "We have plans to keep that airplane in production for a long time."
Don't Miss: Here's Why Boeing Shares Are Hitting New Highs.