Is Retirement Nothing But a Pipe Dream for Americans?
Despite a rebound in home prices and new all-time nominal highs in the stock market, Americans are set for an unpleasant retirement, if they even make it that far.
The Employee Benefit Research Institute's latest survey on retirement confidence shows that the majority of workers have saved for their golden years, but the piggybank is quite slim. Excluding the value of a primary home and any defined benefit plans, 57 percent of households say they have less than $25,000 in savings and investments. Twenty-eight percent say they have less than $1,000.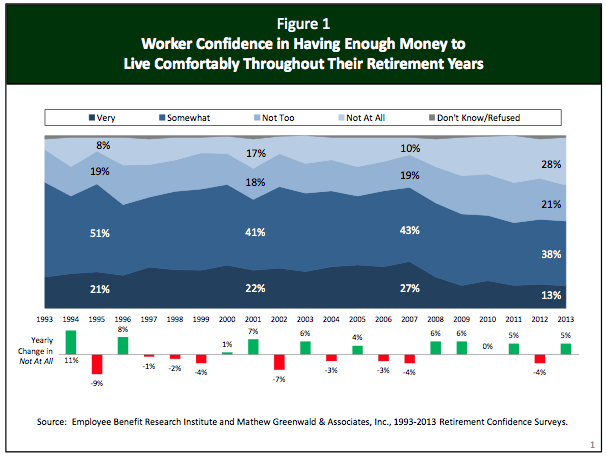 To little surprise, confidence among American workers have seen better days. The percentage of workers confident about having enough money for a comfortable retirement is relatively unchanged from the record lows of 2011. Half of all workers are either not too or not at all confident of having enough money for retirement, while only 13 percent are very confident. In comparison, confidence levels reached their highest point in 2007, with 27 percent feeling very confident.
Sentiment among American retirees is also very low. Only 18 percent are very confident about having enough money for a comfortable retirement, compared to 41 percent in 2007. At the same time, 14 percent are not at all confident and 22 percent are not too confident.
Why is the outlook so dismal…
The report explains, "One reason that retirement confidence may have remained low despite a brightening economic outlook is that some workers may be waking up to a realization of just how much they may need to save each year from now until they retire so they can live comfortably in retirement."
One third of those polled think they need to save 20 percent or less of their total household income, with 2 in 10 people placing that amount between 20 percent and 29 percent. Sadly, 23 percent did not know how much they should save.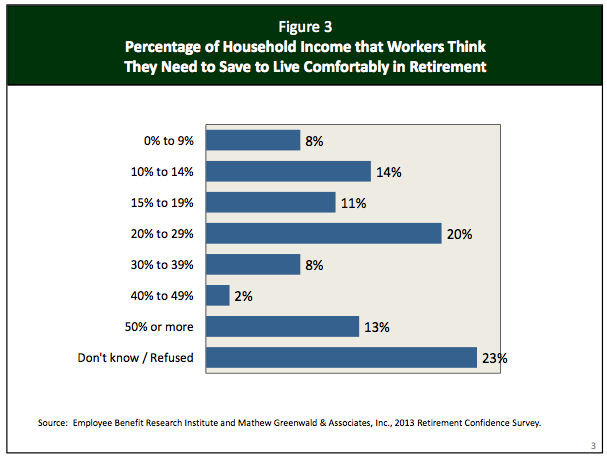 There is always a reason to not do something, but Americans have a lot on their plates these days. When asked to identify the most pressing current financial issue, both workers and retirees said job uncertainty (30 percent of workers and 27 percent of retirees).
In fact, only 2 percent of workers and 4 percent of retirees said saving or planning for retirement was the most pressing financial issue for Americans.
Here are other pressing issues included in the report:
Making ends meet (12 percent for workers and retirees)
The budget deficit and government spending (8 percent of workers and 14 percent of retirees)
Paying for health insurance or medical expenses (9 percent of workers and 10 percent of retirees)
The economy (8 percent of workers and 6 percent of retirees)
Taxes (8 percent of workers and 5 percent of retirees)
Making mortgage payments (8 percent of workers and 4 percent of retirees)
Debt is also serving as a headwind to retirement. The cost of living is on the rise as the U.S. dollar loses purchasing power, and many people are turning to debt to make up the difference between income and expenses.
The report explains, "Moreover, a significant number of Americans carry what they see as a problematic amount of debt. Sixteen percent of workers and 13 percent of retirees report their level of debt is a major problem, while an additional 44 percent of workers and 26 percent of retirees describe it as a minor problem. In addition, 25 percent of workers and 15 percent of retirees indicate that their current level of debt is higher than it was five years ago."
Here's how the main U.S. stock indexes performed on Wednesday:

Don't Miss: How Much Will March Madness Cost Businesses?