Is Slowing Economic Growth Curbing Demand for Oil?
"Recent indicators of weaker industrial data at the beginning of 2013 signal slower growth than in prior years," the U.S. Energy Information Administration said Tuesday in its forecast of world oil demand for this year and the next. Because the economic recovery worldwide is only expected to be moderate, the lower growth will keep gains in oil demand lower than projected a month earlier. As part of this larger assessment, the EIA noted that U.S. oil consumption is expected to increase fractionally to 18.62 million barrels a day this year from a 16-year low of 18.55 million barrels a day in 2012.
But for the United States the report contained more than bad news. U.S. consumption of oil is projected to increase, but production in the U.S. is also expected to rise. According to the EIA, the projected world fuel supply will increase by 600,000 barrels per day in 2013 to a total of 89.75 million barrels per day and by 2.1 million barrels a day in 2014 to 91.8 million barrels per day. Most of the supply growth will come from the United States and other countries that are not part of the 12-member Organization of the Petroleum Exporting Countries.
As the EIA announced Wednesday, U.S. crude oil production is expected to "grow rapidly" through 2016. However, over the short term, the agency's weekly Petroleum Status Report showed evidence of slumping demand in the increasing size of the crude oil stockpile; the rise in U.S. crude oil refinery inputs rose above the previous week's average, offsetting the fractional drop in crude oil imports.
Refineries operated at 86.6 percent of their operable capacity in the week ending April 5, generating 8.8 million barrels per day of gasoline — a decrease from the previous week — while distillate fuel production increased to an average of 4.5 million barrels per day. In total, inputs averaged more than 15.1 million barrels per day — an increase of 106 thousand barrels per day from the previous week's average…
Over the past four weeks, crude oil imports have averaged about 7.8 million barrels per day, about 1.2 million barrels per day below the same four-week period last year. Last week's figures came in below this average, at 7.7 million barrels per day last week, a decrease of 211 thousand barrels per day from the previous week.
Despite the combination of lowered crude oil imports and higher refinery inputs, U.S. commercial crude oil inventories — excluding those in the Strategic Petroleum Reserve — increased slightly, growing by 0.3 million barrels per day to 388.9 million barrels. This figure puts crude oil inventories well above the upper limit of the average range for this time of year, suggesting that demand has slumped.
With analyst expectations predicting an increase in inventories in line with those results, the price of Brent crude futures — Europe's benchmark index — slid 80 cents to $105.43 a barrel ahead of the report, while West Texas Intermediate oil futures fell 46 cents to $93.74. "The actual physical demand, as evident from the wet barrels market, remains subdued," VTB Capital oil and commodities strategist Andrey Kryuchenkov told Reuters.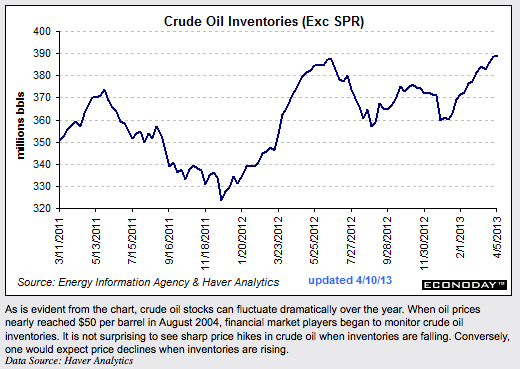 Don't Miss:  Here's Your Cheat Sheet To Obama's Fiscal 2014 Budget Proposal.