Is Starbucks a Buy After Acquiring Teavana?
With shares of Starbucks trading at $49.74, is (NASDAQ:SBUX) a BUY, a WAIT and SEE, or a STAY AWAY? Let's analyze the stock with the relevant sections of our CHEAT SHEET investing framework:
C = Catalysts for the Stock's Movement
Starbucks suffered its worst sell off of the year at the end of July when it posted third-quarter fiscal year 2012 results (calendar year is October-September) that came in below expectations and flat quarter over quarter earnings guidance for the fourth-quarter. The stock dropped 17.63 percent by August 2, and hasn't broken $52 per share since.
Fourth-quarter earnings came pretty much exactly in line with estimates at $0.46 per share, a 24 percent increase year over year. Comparable-store sales rose 7 percent, revenue grew 11 percent, and the board raised the quarterly dividend by 24 percent, for a forward annual dividend rate of $0.84, or 1.7 percent.
On November 14, Starbucks announced its agreement to buy Teavana Holdings, Inc. (NYSE:TEA) for $620 million in cash, or $15.50 per share. Before the acquisition was announced, shares of Teavana had lost over 50 percent of their value year over year, and were trading just at just over $10 per share. The press release states that "Just as Starbucks pioneered a new retail experience for coffee and espresso, the company's acquisition of Teavana provides the opportunity to do the same with the rapidly growing $40 billion global tea category."
Many investors found the decision questionable, especially given the fact that Starbucks already owns the Tazo tea brand. However, the day after announcing the acquisition, Starbucks placated investors by announcing the repurchase of 25 million shares, adding to the 12.1 million approved for repurchase at the end of FY 2012.
H = High Quality Pipeline
Since its inception, Starbucks has aimed to become a "third place," a space between home and work that serves as a casual community center.
The company is piloting new bakery items from La Boulange, a San Francisco baker chain that Starbucks bought over the summer. Starbucks is also launching an Evolution Juice Bar chain, targeted at capitalizing on the $50 billion health food market.
The company is experimenting with LEED-certified, drive-through and walk-up only modules. The retail units are prefabricated and standardized on the inside, but decorated entirely in local materials, and strive toward energy efficiency.
Starbucks is also leading the way in mobile payment processing, recently launching a partnership with Square that will soon take away the need for customers to even touch their wallets.
All of these initiatives will lead to future headlines helping the stock to move higher.
A = A-Level Management Runs the Company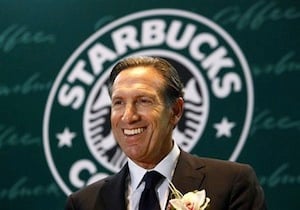 Howard D. Schultz is the well-known chairman, president, and CEO of Starbucks. The self-made man is credited with defining modern coffee in the United States and creating that "third place" where people spend their time between home and work.
According to CNN, in September of 2011, President Barack Obama called Shultz to discuss jobs before he delivered a speech to Congress on the subject. He likely gained the president's attention when he mounted a protest against partisan gridlock in Washington, and more than 100 CEO's signed on to halt all political campaign contributions.
In September 2012, CNBC's Jim Cramer compared Schultz to Steve Jobs, saying: "I know Schultz as the man who made you one fortune when he brought Starbucks public and then a second fortune when he returned to the helm after the business went wayward under the CEO who replaced him the first time around. He's been like Steve Jobs in that way and I know you don't make that analogue lightly."
T = Technicals on the Stock Chart are Average
As of November 18, the stock price is 1.19 percent above its 20-day simple moving average, or SMA; 0.59 percent below its 50-day SMA; and 4.55 percent below its 200-day SMA.
Since the beginning of 2012 the stock price has been in an upward trend, gaining 9.83 percent this year to date, and gaining 18.37 percent year over year.
For comparison, shares of Dunkin' Brands Group, Inc. (NASDAQ:DNKN) have gained 21.26 percent of their value this year to date, and gained 18.86 percent year over year.
Starbucks is trading in a 52-week range between $40.75 and $62.00 per share.
Conclusion
Starbucks pulls in a mean price target of $65.21 per share, an attractive 31 percent premium on its November 19 closing price. It's important to point out that while most analysts agree that this stock has room to grow, the mean target is just 5.1 percent above the 52-week high seen in April.
According to Interbrand, Starbucks is the 88th most valuable brand in the world, growing 11 percent since last year to a brand value of  just over $4 billion.
Based on the key metrics above, Starbucks is a long-term BUY.
Using a solid investing framework such as this can help improve your stock-picking skills. Don't waste another minute — click here and get our CHEAT SHEET stock picks now.