Is Student Debt the Real Fiscal Cliff?
The fiscal cliff was a highly political event that occurred earlier this year. It involved a combination of tax cuts expiring and a minuscule reduction in government spending. Many feared it would cripple the already sluggish economy, but the real fiscal cliff appears to be the expanding student debt bubble.
A college degree was once considered to be a guaranteed path to the American Dream. However, rising debt loads have many graduates living a financial nightmare, and the side effects are impacting other areas of the economy. Due to monthly loan payments, about 47 percent of student borrowers have delayed buying a house, according to a new survey by Young Invincibles, an organization that represents the interests of young adults. The survey focused on 9,523 graduates with private student-loan debt.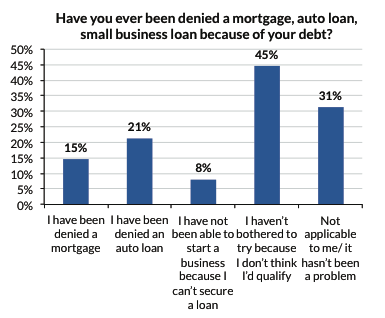 The same percentage of borrowers also put off buying a car, while 35 percent said they postponed starting a family. Twenty-three percent of respondents stated that they put off starting a business, and 15 percent said they tried to receive a mortgage but were denied. Even more concerning, 76 percent said they saved less for the future, which will undoubtedly cause additional problems down the road.
With lenders handing out loans like candy and the price of attending college skyrocketing, students are more likely than ever to use debt to pay for school. The median amount of private debt held by respondents totaled between $25,000 and $35,000. Adding insult to injury, almost of all the borrowers in the survey held federal debt as well.
About 43 percent of people surveyed had $10,000 to $50,000 in private student debt. Around 12 percent had between $50,000 and $75,000, while 16 percent had $75,000 or more.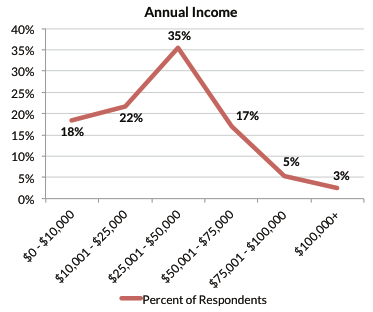 Using debt to obtain a degree can be beneficial if done properly, but a weak job market is hindering the process. As the chart above shows, 40 percent of respondents earned below $25,000 per year, and 75 percent said their annual income was below $50,000.
In order to cope with monthly debt payments, many borrowers are making noteworthy sacrifices, but others are going deeper into debt. According to the survey, 26 percent of borrowers had taken a second or third job in order to afford payments, while almost 46 percent cut out "non-essential" payments like cable or Internet services.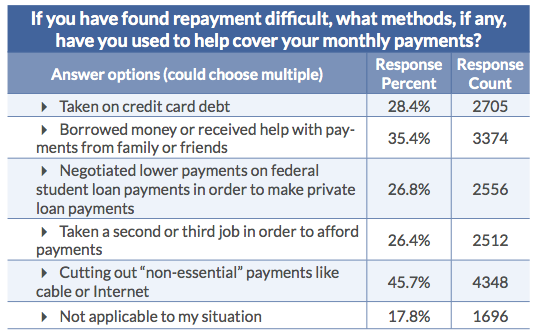 To the downside, 28 percent said they had taken on credit card debt in order to pay for student debt. Furthermore, 35 percent borrowed money or received help with payments from family or friends. Only 18 percent said they did not find repayment difficult.
Don't Miss: Is Money Still a Taboo Topic for Couples?
Follow Eric on Twitter (@Mr_Eric_WSCS)