Is Target Crushing Wal-Mart in Canada?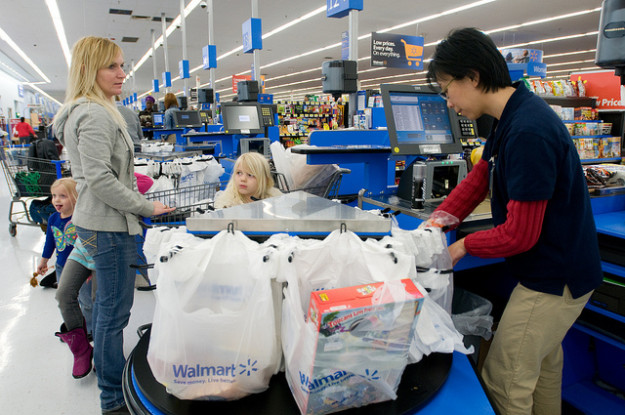 The weak economy is hurting many discount retailers; last Thursday Wal-Mart's (NYSE:WMT) results missed Wall Street's expectations, reflecting the stress on low-income consumers, while Target (NYSE:TGT) reported Wednesday that first-quarter earnings plummeted 29 percent, missing its already lowered guidance. Wal-Mart is considered an economic bellwether, because its sales account for nearly 10 percent of non-automotive retail spending in the United States.
Tough economic conditions followed Wal-Mart to Canada, where its results were exacerbated by what retail analysts have termed the "Target effect." To better compete with its rival — which launched its first 24 stores in the country in March — Wal-Mart has embarked on an expansion project, but as its recent earnings report showed, performance at its existing stores declined in the past quarter.
Target acknowledged in its earnings press release that "softer-than-expected sales trends" were responsible for its lower-than-expected results. But in Canada, the company's new stores experienced an "unexpectedly strong surge" in sales, as Chief Executive Officer Gregg Steinhafel told investors on the earnings call. Still, he acknowledged that the retailer must focus its efforts on strengthening sales in important categories: the repeat-business market segments dominated by Wal-Mart and grocery stores. "We are encouraging our new Canadian guests to make Target a preferred destination for categories throughout the store, including food, health, beauty, and household essentials," Steinhafel said.
The company's Canadian stores generated sales of $86 million in the last quarter, which ended on May 4, supported by higher-than-anticipated sales in its home and apparel departments — categories in which it competes with Sears (NASDAQ:SHLD) and Wal-Mart.
"People shop for food in Canada an average of 1.8 times a week and the idea is that if you get them in for food and other household items, they then cross-shop in the other departments,"  retailing consultant Richard Talbot told the Financial Post. It is for that reason that Wal-Mart opened a plethora of locations with full grocery stores last year. The company increased its store count by 13.8 percent and boosted overall square footage by 10.6 percent, beginning the new fiscal year with 379 locations, of which 209 were grocery-inclusive supercenters and the remaining 170 were standard discount stores. Last year, Wal-Mart operated 333 locations in total.
Despite this expansion, Wal-Mart's same-store sales, operating income and foot traffic suffered during Target's first quarter of Canadian operations, with weak consumer spending and unusually cold weather hurting results as well. Same-store sales at Canadian stores open for more than a year, an important barometer of retail health, dropped 1.3 percent in the period ended April 30, while customer traffic dropped two percent. As a result, operating expenses grew faster than sales.
"Our results were impacted by the unseasonably colder weather this year versus unseasonably warm weather last year and the leap year overlap," Doug McMillon, president and chief executive of Wal-Mart International, told investors on the company's earnings call. Higher household debt levels weakened consumer spending in Canada as well, he added. Economic conditions have prompted 57 percent of Canadians to shop comparatively, according to a recent RBC survey, a practice that has made competition between discount retailers even stronger.
However, the road ahead will not necessarily be an easy one for Target. In the last quarter, Wal-Mart made market share gains of 120 basis points in food, consumables and health and wellness categories, according to research firm Nielsen, the very areas Target seeks to dominate.
Follow Meghan on Twitter @MFoley_WSCS
Don't Miss: Is This Saks Talk Threatening Nordstrom?