Is Tesla Made of More Than Just Green Credits?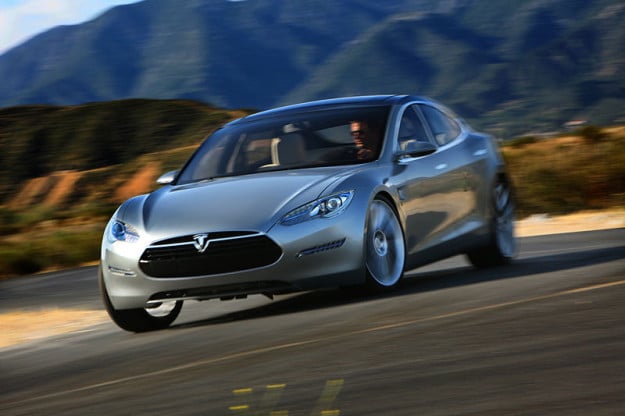 With its quarterly earnings report due on Wednesday, investors of Tesla Motors (NASDAQ:TSLA) may not be sure of what to expect. While some predict that the automaker will report "its first-ever profit," perhaps the more interesting point of discussion has to do with how the automaker is expected to stay in the black.
While starting any business is hard work and requires significant capital infusion, industries such as auto manufacturing are incredibly capital intensive. It can take long years for these startups to reach profitability — but it's a position Tesla is close to reaching now. Tesla is also in the unique position of offering a product that is valued by the government for being a leap forward in energy technology. Because of this, the federal government as well as the state government of California, where Tesla is located, offer substantial amounts of money as incentives to continue the development of clean-energy technology.
NEW! Discover a new stock idea each week for less than the cost of 1 trade. CLICK HERE for your Weekly Stock Cheat Sheets NOW!
Through these political efforts to bring electric cars to the wider market, Tesla has been endowed with credits worth about $35,000 for each Model S sedan that the company sells. While these 'subsidies' are viewed as a wholly positive aspect of helping gasoline-alternative vehicles reach the masses, there is a slight twist to the tale: Tesla can then sell the green energy credits to other car manufacturers, who snap them up as fast as it chooses to put them up for sale. Car makers need a certain number of credits to operate in California, where pollution regulations are especially strict. And Tesla has plenty of credits on hand to pass along.
According to analyst estimates, while these credits have earlier been responsible for Tesla's survival, this year the system may put an extra $250 million in its pockets. "At the end of the day, other carmakers are subsidizing Tesla," said Thilo Koslowski, a Gartner analyst.
While it may be true that Tesla has been able to use the government assistance to its benefit, it should be noted how notoriously difficult it is to successfully break into the modern automobile market. The largest existing companies are ones that have been around for several decades, maybe more. Everything else has been bought, merged, acquired, dissolved, or flat out driven under — look what happened to the ill-fated Fisker.
Critics of the program label Tesla's actions as extortion and rail against the state tax dollars being used as incentive for cars that a disproportionately small portion of the population can afford. Meanwhile, proponents of the measure find that Tesla, which pays taxes in California, employs numerous Californians to build products that keep pollution out of California air, and then exports those products internationally, is justified in enjoying the subsidies.
NEW! Discover a new stock idea each week for less than the cost of 1 trade. CLICK HERE for your Weekly Stock Cheat Sheets NOW!
What is unclear now, but should become clearer on Wednesday, is the degree to which the government is propping the company up. With production well underway and a healthy waiting list of customers eagerly waiting for delivery of their Model S, the issue now is not a shortage of demand for electric cars.
Tesla's business model makes a fair amount of sense when looked at from a broader perspective. The Model S, in its most basic form, will run about $62,000 after the $7,500 tax credit that the consumer receives. This is by no means a cheap car, but here's the ingenuity of Tesla's operation: it's not meant to be.
While electric cars do not enjoy the same market saturation that gasoline engines do, the few production runs attempted by large companies tend to be rather lackluster. To combat the naturally high prices of electric cars, companies will make them as affordable as possible for the most number of buyers. Unfortunately, this approach leads to a cheap car in an expensive tuxedo.
Tesla takes a different path by splurging on quality materials and high-end gadgetry. The sensual, sleek curves of the Model S are intentionally aimed at upmarket buyers. Instead of starting low and moving up, Tesla is starting high and coming down — giving the cost of EV technology a chance to deflate by the time a more affordable model rolls off the line.
Don't Miss: Porsche Delivers 40th Bday Thriller While Detroit Answers.