Is the 2008 Bear Market Back?
Goldman Sachs (NYSE:GS) chief US economist, Jan Hatzius said that a recession is 40% likely for 2012, and the jobless rate is likely to surge to the mid 9% range.  However, markets are spelling out trouble right now as more bear market signals emerge.
Super Hot Feature: 5 Richest Hedge Fund Managers.
The S&P 500 (NYSE:SPY) officially entered bear market territory on Tuesday, falling more than 20% from its highs made in April. Despite the loud warnings that this is not 2008, it mirrors it in several ways.  On October 3, 2008, the S&P 500 closed at 1,099.23.  On Monday, exactly three years later, the S&P 500 closed once again at 1,099.23.  In comparison to volatility, as measured by the VIX (NYSE:VXX), the relationship between 2008 and 2011 is also very similar.  On October 3, 2008, the VIX closed at 45.14.  On Monday, the VIX finished the day at 45.45, almost exactly the same as three years earlier.
The chart below shows the bear market fall in the S&P 500 since late April.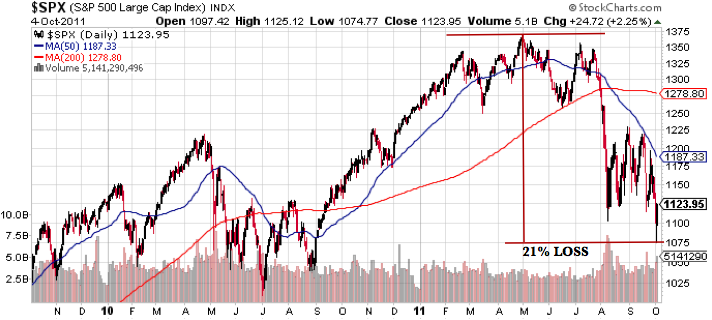 Although the NASDAQ (NASDAQ:QQQ) is still above its October 3, 2008 closing of 1,947, the index also dipped into bear market territory today.  On Tuesday, the NASDAQ hit an intra-day low of 2,298, which represents a 20% decline from its April 29, 2011 closing high of 2,873.  Many argue that the same problems from 2008 still remain today.  Maury Fertig, CIO at Relative Value Partners said, "There are not a lot of reasons for investors to step back in the market other than prices have fallen a lot.  It's going to take some real news out of Europe to turn sentiment around and bring investors back, but it doesn't feel like we've capitulated yet." Crude oil (NYSE:USO), thought of as the lifeblood of the economy, also reached bear market territory as it settled below $76 for the first time in more than a year.
Investing Insights: Oil ETFs: The Top 10 Exchange Traded Funds for Your Oil Investing List.
Federal Reserve Chairman Ben Bernanke also added to economic concerns by telling Congress, "The recovery is close to faltering.  It is clear, overall, the recovery from the crisis has been much less robust than we had hoped.  Slow economic growth has in turn led to slow rates of increase in jobs and household incomes."  Investors will recall that although Lehman Brothers declared bankruptcy in September 2008, the Dow (NYSE:DIA) didn't bottom until March 2009.  Large banks (NYSE:XLF) were the problem in 2008, and they remain the problem today.  Banking giants such as Bank of America (NYSE:BAC) and Goldman Sachs are quickly closing in on their 2009 lows.  Furthermore, Morgan Stanley (NYSE:MS) is actually trading at 2008 levels as debt and default concerns continue to plague the financial market.  Barry Ritholtz sums it up well by saying, "Investors do not really have a clear idea of how healthy any of these banks truly are.  We do not know the state of their balance sheets.  We do not know what their exposures are to mortgages, to Europe, to Greece, etc.  They could all be technically insolvent, as far as any investor can tell.
Despite major indices falling into bear market territory on Tuesday, the market managed to stage a rally in the last 30 minutes on more European bank aid hope (NYSE:KBE).  The Dow (NYSE:DIA), S&P 500 (NYSE:SPY), and NASDAQ (NASDAQ:QQQ) all closed the day higher.  European commissioner for economic affairs, Olli Rehn said, "Capital positions of European banks must be reinforced to provide additional safety margins and thus reduce uncertainty.  This should be regarded as an integral part of the EU's comprehensive strategy to restore confidence and overcome the crisis."
Don't Miss: Did the Gold and Silver Plunges Shakeout the Weak?