Is the College Debt Bubble Finally Bursting?
The student debt bubble has yet to burst like housing, but more warning signs are appearing. New research shows that an increasing amount of student loans are being written off, as borrowers struggle to repay and college costs sky-rocket.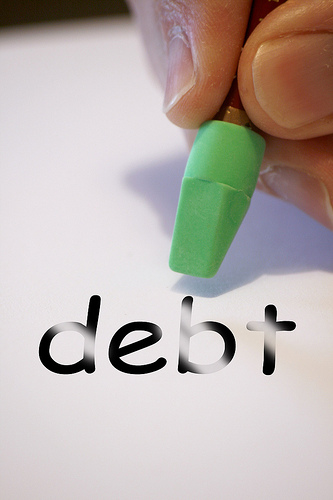 In only the first two months of 2013, banks have declared $3 billion of student loan debt as noncollectable, according to Equifax's latest National Consumer Credit Trends Report. This represents a 36 percent surge from the same period last year. Meanwhile, the number of student loans outstanding jumped 13 percent to more than 123 million.
Making matters worse, the weak economy is causing more people to go back to school and rack up even more debt.
"Driven heavily by economic factors, including unemployed or under-employed consumers going back to school along with the rising cost of tuition, student lending has demonstrated consistent, year-over-year growth," said Equifax Chief Economist Amy Crews Cutts. "Continued weakness in labor markets is limiting work options once people graduate or quit their programs, leading to a steady rise in delinquencies and loan write-offs."
The student loan picture continues to deteriorate…
The report echoes research released earlier in the year by the Federal Reserve and Equifax. Outstanding student loan balances increased $10 billion during the fourth-quarter to reach a total of $966 billion. Even more concerning, the number of borrowers who have fallen behind on their student debt by at least 90 days continues to climb higher. In the fourth-quarter, it surpassed the delinquency rates of credit cards to reach 11.7 percent. Thirty-five percent of people under 30 years old who have student loans are at least 90 days late on payments, compared to 26 percent in 2008.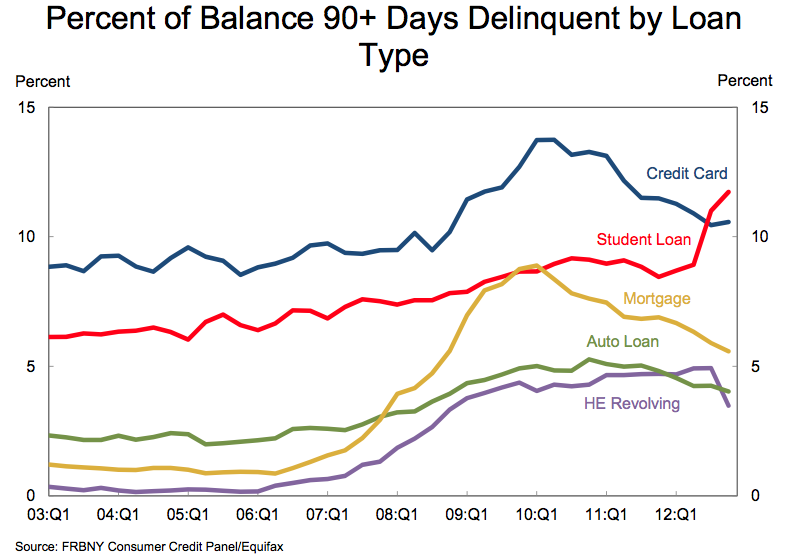 Interestingly, the delinquency rates of student loans is likely even higher than reported. In the fine print, the Fed explains, "These delinquency rates for student loans are likely to understate actual delinquency rates because almost half of these loans are currently in deferment, in grace periods or in forbearance and therefore temporarily not in the repayment cycle. This implies that among loans in the repayment cycle delinquency rates are roughly twice as high."
Demand is on the rise…
Student loans continue to see demand, as they are not heavily dependent on credit history or income of the borrower. This is eerily similar to subprime lending that occurred in the housing bubble. However, student loans are not typically allowed to be discharged in bankruptcy, due to changes made several years ago.
In an effort to examine more recent shifts in the student debt bubble, FICO conducted a study reviewing loan data from 2005. With the cost of college easily outpacing broad inflation gauges, more consumers are taking out student loans to pay for their education. FICO finds that approximately 12 million Americans had two or more open student loans on their credit report in 2005. In 2012, this figure more than doubled to 26 million Americans.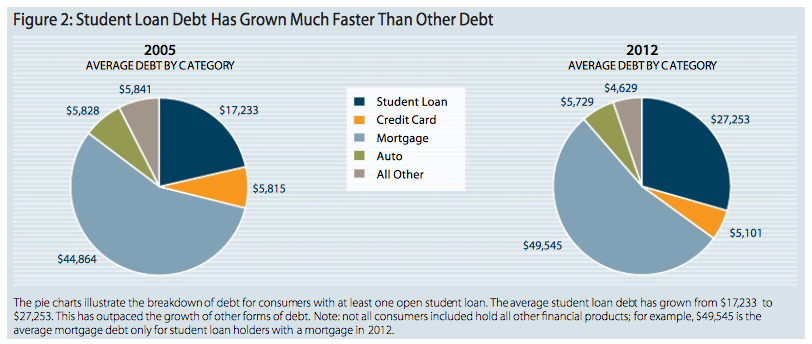 Adding insult to injury, consumers also have a greater amount of student loan debt today. In 2005, consumers in the United States with at least one open student loan on record had an average student debt load of $17,233. However, this debt load increased 58 percent to $27,253 last year. In comparison, all other debt categories combined only grew 4.3 percent.
In addition to higher average balances, the percentage of consumers with student debt has increased at every level…
Consumers with student debt under $20,000 increased from 9.0 percent in October 2005 to 11.0 percent in October 2012. Those with student debt in the $20,000 to $39,999 range more than doubled from 1.9 percent to 4.0 percent. Consumers in the ranges of $40,000 to $59,999 and $60,000 to $79,999 also more than doubled over the past seven years.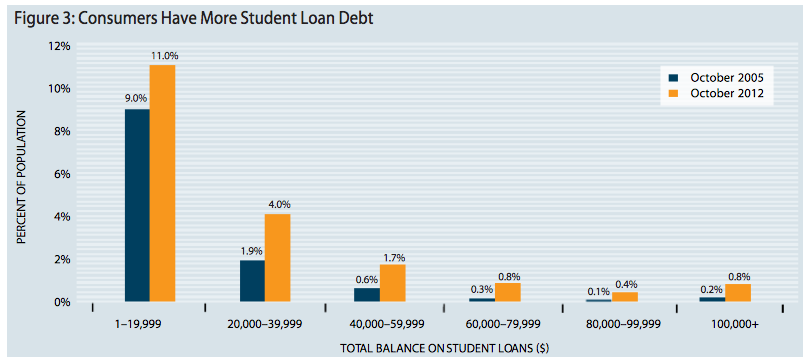 Meanwhile, those with student loan debt in excess of $100,000 quadrupled in the same time period. In other words, there are approximately 1.2 million more consumers with student loan debt in excess of $100,000. The rising debt levels and delinquency rates are concerning, especially since the Consumer Financial Protection Bureau says total student debt outstanding has already surpassed $1 trillion, easily topping total credit card debt and auto loan debt.
According to FinAid, college tuition increases an average of 8 percent a year, meaning the cost of tuition doubles every nine years. It appears that it is only a matter of time before the book closes and pops the student debt bubble.
Here's how the market traded Wednesday: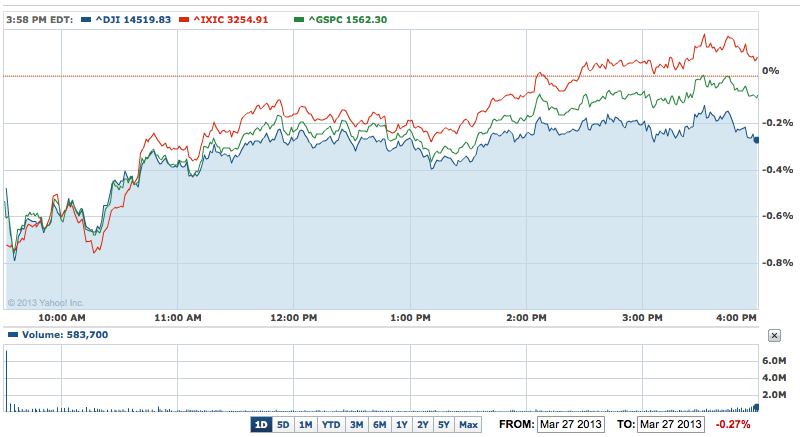 Don't Miss: Will Debt Ruin Your Retirement?