Is the Debt Ceiling Raise Bullish for Gold?
It was quite the day for markets as a debt ceiling deal played with emotions.  The Dow (NYSE:DIA), which initially jumped over 100 points at the open, finished the day down 10 points. The U.S. Dollar (NYSE:UUP) received a boost as markets are somehow feeling reassured about the government's ability to borrow more money.  Gold (NYSE:GLD) and silver (NYSE:SLV) also closed the day lower.
Although precious metals (NYSE:DBP) were down, there is a strong upward channel in gold.  The chart below shows the rise in gold prices over the past couple years.  Even though critics of gold will quickly call an end to gold's run on a decline, investors should keep the big picture in mind.  Gold continues to receive buying support as it nears the bottom of this channel. Even if gold declines to $1550, the longer-term technical trend looks strong.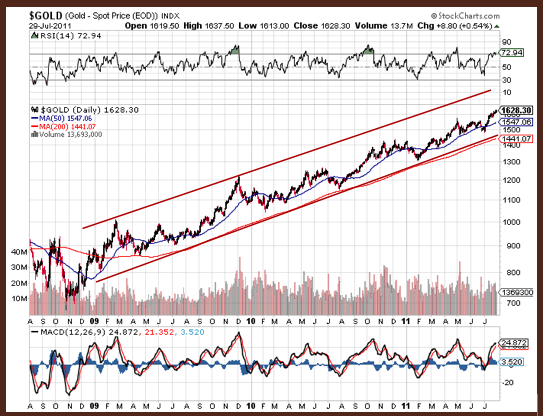 As our Gold and Silver Premium Newsletter readers know, despite the temporary pullback in gold and silver, the debt deal is actually bullish for precious metals.  The debt deal allows the government to continue its massive spending and debt cycle, which will cause investors to seek out protection from the U.S. Dollar.  Furthermore, someone has to purchase government bonds, and the Federal Reserve is the most likely candidate.  The past two quantitate easing programs from the Fed paved the way for all time record gold prices, just imagine where QE 3 will put gold at in the near future.
Investors looking to hold metal miners in their portfolio may want to consider gold plays such as AngloGold (NYSE:AU), Newmont Mining (NYSE:NEM), or Market Vectors Jr Gold Miners ETF (NYSE:GDXJ).  Silver miners include First Majestic Silver (NYSE:AG), Endeavour Silver (AMEX:EXK), and Global X Silver Miners ETF (NYSE:SIL).
For more analysis on our support levels and ranges for gold and silver, consider a free 14-day trial to our acclaimed Gold & Silver Investment Newsletter.
Disclosure: Long AGQ.