Is the DOJ's Banking Task Force Gaining Ground?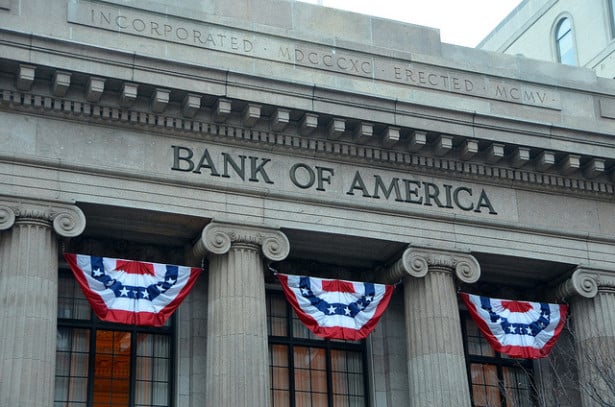 The U.S. Department of Justice is cracking down on nine major banks in the wake of its $13 billion agreement with JPMorgan Chase & Co. (NYSE:JPM) According to the Financial Times, investigations are being made into the banks' sales of residential mortgage-backed securities.
The banks being looked at by the U.S. attorney are Bank of America (NYSE:BAC), Citigroup (NYSE:C), Credit Suisse, Deutsche Bank (NYSE:DB), Goldman Sachs (NYSE:GS), Morgan Stanley  (NYSE:MS), Royal Bank of Scotland (NYSE:RBS), UBS (NYSE:UBS), and Wells Fargo (NYSE:WFC).
Civil violations are the main concern: The DoJ is looking for evidence that the banks inaccurately represented mortgage-backed securities. Criminal sanctions are not the focus of the investigations, the Financial Times reports, and for now, there are no firm plans for lawsuits or settlements. The task force created for the purpose of the investigations — with factions in both state and federal regions — was assembled by the Obama administration in 2012.
Upon the force's creation, which was a topic addressed in President Barack Obama's State of the Union address, some critics castigated it as political posturing — however, the group seems to have made significant progress so far.
Those familiar with the investigation told the Financial Times that talks between the government and the banks have increased, as have document requests, and U.S. attorneys' offices in multiple states are presently looking into all targeted banks. JPMorgan's deal with the Department of Justice focused on faulty mortgage-backed securities, resolving claims from Bear Stearns and Washington Mutual, which JPMorgan acquired during the financial crisis.
JPMorgan may have finally come to an agreement, but Bank of America is still in the midst of legal proceedings after having been found liable for one of multiple civil fraud charges, Reuters reports. The bank was found by the federal government to have sold faulty home loans to Fannie Mae and Freddie Mac. The Justice Department has indicated that it will be asking for as much as $848.2 million from Bank of America to cover losses on the loans.
Don't Miss: The Jury's In: Bank of America is Guilty.